Dear kitchen stove, it's not you -- it's the weather. We promise to get back to you when the temperature cools down, but until then, we'll be fixing up these meals from breakfast to dinner and polishing it all off with a no-bake dessert. The best part? We won't even break a sweat.
1. Overnight Oatmeal
You might be saying to yourself, "Oatmeal? C'mon!" But this chilled overnight version is unbelievably simple and delicious. Mix in your favorite fruits and nuts for a variety of texture. If there's such a thing as cold comfort food, this is it.
2. Brazilian Acai Bowl
Considered a superfood, acai is an antioxidant-packed berry indigenous to parts of Central and South America. Sounds exotic, right? Luckily, these days it's easy to find frozen acai berries or powdered versions (both of which work for this recipe) in supermarkets or online. Think of this as a smoothie in a bowl without all the added sugar.
3. Spicy Garbanzo Waffles With Mint Cilantro Chutney
If you're craving something more savory but don't want to slave away over a stove, these Indian-inspired waffles are your answer. They're just spicy enough to give you a much-needed jolt in the morning, and a dollop of the mint cilantro chutney takes them to a whole new level.
4. Chilled Avocado Buttermilk Soup
Step aside, gazpacho! This chilled avocado soup only takes 3 minutes to make and has the perfect balance of flavors with its creamy consistency offset by the slight tang from the buttermilk.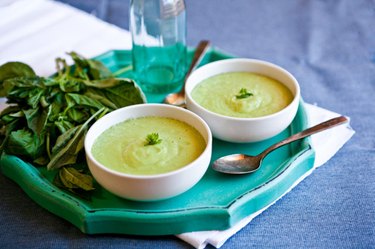 5. Apple Jicama Salad Rolls
We love any opportunity to eat with our hands. These summer rolls are fun to make and won't weigh you down in the sweltering heat. Granny Smith apples and jicama add a unique twist to the ubiquitous roll while the mint adds brightness to the dish.
6. Slow Cooker Chipotle Beer Chicken Sliders
Technically speaking, this is considered "cooking" but we promise you won't be the one doing it. With the help of a slow cooker, these chicken sliders offer a bit of chipotle spice and smoke, while the beer adds unctuousness to the meat. Just so you know, the recipe only calls for one cup of beer. It's a tough job, but someone's gotta drink the rest!
7. Slow Cooker Beef Brisket
This is one of those amazing slow cooker dishes where you just throw stuff in and sleep on it. Cooking brisket slowly over low heat is the key to making the meat tender. It'll be the star of all the nachos and tacos to come this summer.
8. Chocolate Coconut Slice
Sure, you can eat ice cream all season long, but why not switch up your dessert routine? This chocolate-y nutty goodness will keep in the freezer for up to 6 weeks, but we're betting it won't last that long.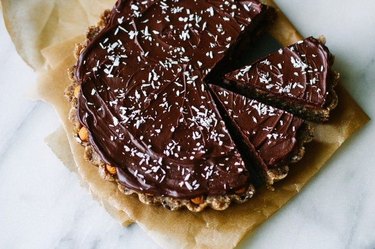 9. Mango Icebox Cake & Ice Cream Float
Mango is the hero in these two desserts. The tri-layered icebox cake is so easy to assemble that the hardest part is waiting for it to set in the fridge. The mango ice cream float is a versatile drink that you can customize for kids and adults (fizzy soda for the under-21, sparkling wine for the grownups!).