Overnight oatmeal is a fantastic breakfast that is served cold and can be made year-round. Simply mix rolled oats with milk and other desired ingredients, allow it to sit overnight and wake up to a no-hassle breakfast.
You can make this healthy breakfast according to your taste, using any sweetener and milk you prefer. For a dairy-free variety, try almond milk, coconut milk or cashew milk. Honey, agave or pure maple syrup offer alternatives to refined sugar. This easy recipe requires only a few minutes of prep time and zero cooking, making it a perfect make-ahead breakfast for company or for fueling your busy lifestyle.
Things You'll Need
2 cups rolled oats

2 cups whole milk (or equivalent of low-fat dairy or dairy-free varieties)


1 teaspoon pure vanilla extract

3 tablespoons light brown sugar (0r equivalent of preferred sweetener)


1/2 teaspoon ground cinnamon, optional

1/4 teaspoon sea salt

Large sealable jar or container
Basic Recipe
Gather your ingredients, and add all of them to a large jar or other sealable container.
Seal the container, and place it in the refrigerator overnight (or at least 6 hours). Enjoy your overnight oatmeal with fresh or dried fruit, nuts and additional milk or sweetener.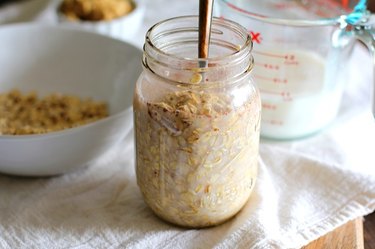 Additional Flavoring Ideas
You can get creative with your overnight oatmeal by trying all sorts of flavoring options.
Make cinnamon-raisin overnight oatmeal by adding 1/4 teaspoon of ground cinnamon and 1/2 cup of raisins to the basic recipe, following the same instructions. Adding the raisins prior to refrigerating it will allow the raisins to rehydrate and plump up overnight.
Strawberries 'n' cream overnight oatmeal requires adding 1 cup of fresh chopped strawberries and 1/2 cup half & half (or full-fat coconut milk) to the basic recipe. Add these ingredients to the oatmeal either before or after it sits overnight.
Make peanut butter & banana overnight oatmeal by serving the overnight oats with banana slices and a dollop or so of creamy or crunchy peanut butter.
Have your overnight oatmeal trail mix-style with dried fruit, nuts, seeds or chocolate chips. Add the following ingredients to the basic recipe before refrigerating: 1/2 cup raisins, 1/2 cup chopped walnuts (or a combination of nuts and seeds of choice) and 1/3 cup of semisweet or white chocolate chips.
Tip
Always use rolled oats for overnight oatmeal, as quick cooking oats will produce a different texture.
Overnight oatmeal will keep in the refrigerator for up to 5 days.