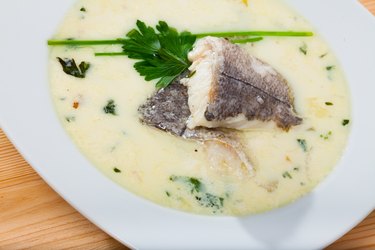 If you've ever made a soup, chowder or sauce and used flour as a thickening agent, then you know how challenging it is to accurately measure the flour for the recipe. There may be an easier way. It's called soy lecithin for food, and it's a standard ingredient in many foods. You may wonder how to use soy lecithin as a thickening agent. This food additive is a great way to thicken your dishes quickly and effectively.
Soy lecithin comes from several sources, the main component being soy. There are other forms of lecithins, but soy lecithin is the most common. Soy lecithin is a natural emulsifier and stabilizer. Emulsion is the process of dispersing minute droplets of one liquid in another in which it is not soluble.
Soy lecithin is easy to use and may become a staple in your kitchen. You can find this powdered ingredient in the baking aisle of most grocery stores.
What Is Soy Lecithin Used For?
You can find natural lecithin in some foods, like green vegetables, red meat and egg yolks. However, the product most commonly used in food and for dietary supplements is soy lecithin, derived from soybeans. Soy lecithin is made from soybean oil that has been refined to separate the oil from lecithin. Soy lecithin has no allergenic soy proteins, making it safe to eat for most people.
You can use soy lecithin in a variety of products. In addition to food, soy lecithin is also sold as a dietary supplement. There are claims that lecithin can improve disorders such as Parkinson's and Alzheimer's; however, no solid evidence exists to support these claims. Lecithin is also used to treat high cholesterol.
Additionally, there have been limited studies that show that animals treated with lecithin lowered their LCL without reducing the HDL cholesterol. You should always check with your medical doctor before starting any supplements.
Lecithin is naturally found in many whole foods and animal byproducts, like organ meats, seafood, cooked green vegetables (like Brussels sprouts and broccoli) and legumes (like kidney beans and black beans). However, you can also add soy lecithin in food. This product comes in powdered form and is often sold in bottles. If you cannot find lecithin in your local supermarket's baking aisle, check the health and medicine aisle. Some stores carry it there as a dietary supplement.
To use soy lecithin as a thickening agent, you will first need to measure the ingredients for your recipe. How much soy lecithin you use will depend on the liquid ingredients. Measure 1/2 teaspoon of soy lecithin per cup of liquid. For instance, if your soup yields 2 cups of liquid, you'll use 1 teaspoon of soy lecithin. After adding the powder, whisk well to incorporate the lecithin into the food.
While there is no soy protein found in soy lecithin, you may still be wary of including soy in your diet. If so, there are soy lecithin substitutes that you can try. One easy-to-use and easy-to-find substitute is egg yolk. Egg yolks contain naturally occurring lecithin and are a great binding agent; you can replace one large egg yolk for every tablespoon of lecithin. If you're concerned about the higher fat content affecting your recipe, try egg replacer powder, which you can find at any health food store.
Another soy lecithin substitute that may be more difficult to find but just as easy to use is xanthan gum. This product is made from fermented, dried and ground corn sugar. It's gluten-free and can act as a thickening and emulsion agent. You're probably wondering how to use xanthan gum to thicken soup. It's an easy substitute, as it's a straight one-to-one measurement.