Things You'll Need
Pins

Fabric marker

Sewing machine

Thread

Scissors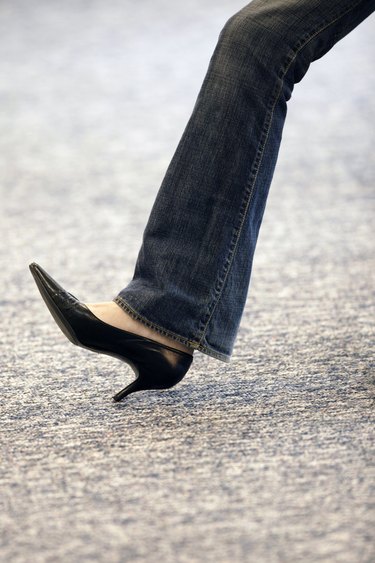 Jeans come a wide variety of cuts, colors and sizes. Some jeans are cut for boots, which means they have a wider, straight cut that cascades down the leg. Skinny jeans are another style of denim that hugs the leg more closely and shows off the silhouette of the lower body. Sometimes a wider-legged pair of denim needs a bit of a fashion overhaul; with a few sewing materials, those boot jeans can become a pair of tapered or skinny jeans in no time at all.
Step 1
Turn the jeans inside out and put them on. Pin along the outer seam of one leg of the jeans to create a tighter fit in the areas you want. This area will generally be from the lower thigh down to the hemline. Pin every 2 inches. Pin along the shape of your leg to create the desired fit, but leave enough room in the leg to allow for movement in the finished product. Repeat this process with the second leg.
Step 2
Remove the jeans and lay them on a flat surface. Draw a dashed line that follows along the pinned line you just created on each leg.
Step 3
Remove the pins and reinsert them along the dashed line, so that they lay horizontal and parallel to the bottom hem of the jeans. This will allow you to sew over the pins while they continue to hold the fabric in place. Repeat with the second leg.
Step 4
Sew along the dashed line on each leg, starting from the hem and working your way up, using a straight stitch. When the dashed line meets the original seam in the jeans, gently fade the new seam into the original to avoid any awkward points or puckering.
Step 5
Remove all of the pins from both legs of the jeans. Cut away the excess fabric on the inside of the new seam using a sharp pair of scissors. Leave 1/4 inch of fabric to keep the seam stable.
Step 6
Turn the jeans right side out.
Tip
Never pin the jeans too tightly to your leg to avoid making jeans that are too tight.
Stretch denim will allow for a tighter fit if you are shooting for a very skinny jean.