Things You'll Need
Unsalted butter, optional

Oven-proof pan

Eggs

Vegetables, chopped, optional

Tomatoes, optional

Herbs

Salt and pepper

Milk or heavy cream, optional

Bacon, cooked and chopped

Cheese, shredded, optional

Muffin pan, optional

Cooking spray, optional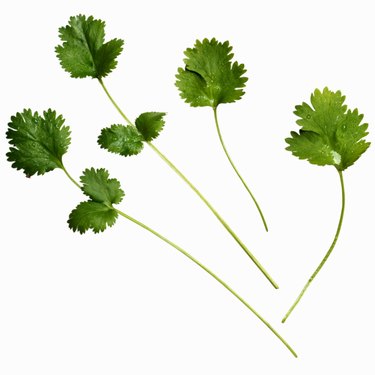 Simple scrambled eggs and strips of bacon make for a fine morning meal. Turn on the oven if you want a meal that goes beyond the diner special. Eggs take to a variety of cooking methods, including baking. Whip up a light and airy frittata, or bake an egg, bacon and cheese muffin for breakfast to go.
Start on the Stove, Finish in the Oven
Step 1
Preheat the oven to 350 degrees Fahrenheit. Melt a small amount of butter in a small oven-proof pan over low heat. Using low heat allows the eggs to remain soft and delicate.
Step 2
Whisk eggs in a bowl to make a frittata. Add vegetables, herbs, salt, pepper and a small amount of milk or heavy cream. Stir until combined. Many herbs pair well with eggs, including thyme, marjoram, chervil, oregano, cilantro and parsley. Fresh herbs add a depth of flavor, but dried herbs that you have on hand are fine, too. When selecting vegetables, aim for those that add a touch of sweetness and color to the dish. Assorted bell peppers, tomatoes and onions are excellent choices.
Step 3
Add the eggs to the pan and cook over low heat for a few minutes. Sprinkle the chopped bacon and cheese over the eggs, then continue to cook until the eggs begin to set. The edges will be slightly firm, while the center should still jiggle.
Step 4
Remove the pan from the heat and place it in the preheated oven. Continue to cook in the oven until the eggs are fully set, approximately 20 to 25 minutes. The eggs should be lightly golden. Allow the frittata to sit for three minutes before serving.
The Muffin Method
Step 1
Preheat the oven to 350 degrees Fahrenheit. Lightly spray a muffin tin with cooking spray and set it aside.
Step 2
Whisk together eggs, herbs, salt and pepper. Dried or fresh oregano, dill or thyme work especially well with this dish. Add chopped bacon and stir to combine.
Step 3
Pour the egg mixture into the muffin cups, filling each one halfway. Sprinkle cheese on top of each and bake for 20 to 24 minutes, or until the eggs are just set. Cool enough to handle, then remove each muffin. Serve warm or cold for an easy and tasty meal on the go.
Tip
Once baked, breakfast egg muffins will keep in the refrigerator for several days.