Things You'll Need
Measuring tape

Chalk

Plywood

Reciprocating saw

Sandpaper

Paint

Stud finder

Carpenter's level

Folding shelf brackets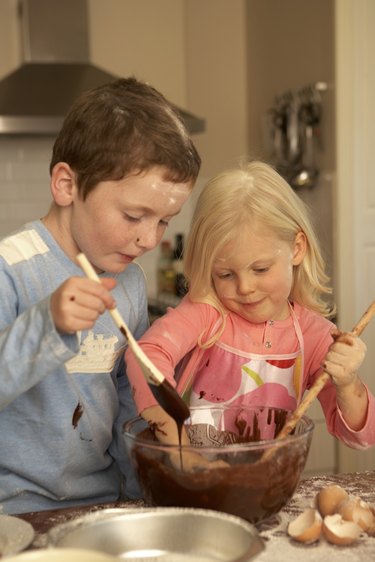 A hinged countertop comes in handy when there is limited counter space in a kitchen. You can raise the hinged counter portion to a horizontal working position when you need the surface space for preparing a meal, then fold it down when you're through in the kitchen. Folding counter surfaces are also suitable in the garage, where space can be tight. If you mount one outside, you can use a hinged counter for a variety of garden projects; it will double as a buffet table when barbequing. Simple hinged countertops are easy to construct since there are a variety of locking hinges available, negating the need for a support under the counter.
Step 1
Measure the desired width of your countertop from the wall where you'll mount it, using a measuring tape. Mark the dimensions on the floor with a piece of chalk. Examine the outline and look around to see if anything is inaccessible: Ask yourself, "Do I have to put the counter away to open the oven or refrigerator?" and questions of that sort.
Step 2
Mark the dimension on a piece of thick plywood or particle board. Cut the wood with a reciprocating saw. Keep the sides of the board straight. Smooth the edges, top and bottom of the board with sandpaper. Sand down any area that looks like it will give the user slivers.
Step 3
Paint the wood with waterproof paint. The best paint for this project is one that is durable and washable. Use two or three coats to completely cover the countertop piece. Let the paint dry completely before mounting it on the hinges.
Step 4
Find the studs within the wall, using a stud finder, and mark the stud locations with a pencil. Choose two studs that are located near the center of the project area. The ideal studs will be directly in the center and spaced 2 feet apart. Place a carpenter's level against the wall and line up the stud marks so they are level.
Step 5
Attach the folding shelf brackets to the wall with screws and an electric screwdriver. Use at least two screws per bracket. Set the counter on top of the extended brackets and check to see if it is level. Hold the counter in place and screw it into the brackets. The countertop will be about 1 1/4 inch from the wall when folded down.
Tip
Use a premade countertop for this project if you do not want to build your own. Premade countertops are available in a variety of colors and materials.
Warning
Examine the wood you are using carefully. Look for areas that are excessively rough. Put back any pieces that have gouges in the sides.