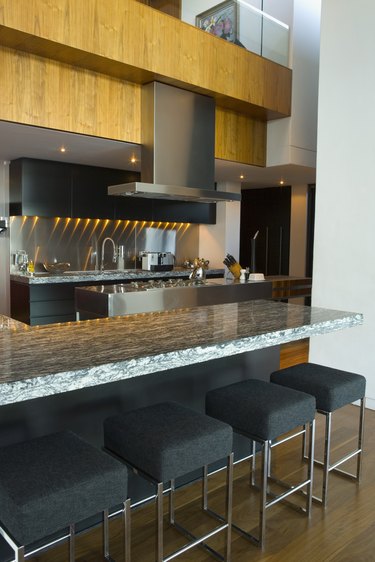 Less-than-stellar countertops can make even the best kitchen look worn-out and outdated. Rather than ripping them out and installing new ones, there are several ways to cover up ugly countertops. Specialized paint can give your kitchen an updated look and feel, while cement can provide a modern flair. Two of the best and easiest ways to cover ugly countertops are installing new laminate or new tile.
Paint
One quick fix for concealing ugly countertops is specialized paint sold by most major hardware stores. This is primarily used to cover up laminate countertops, and you can usually finish this project in a few hours. To apply, you need to sand down your countertops, clean them and then apply the paint according to manufacturer's directions. You can choose from a variety of solid colors or choose paints meant to mimic the look of natural stone.
Cement
A couple layers of tinted cement can change the look of your entire kitchen. While this is more time consuming than paint, it can give your kitchen an updated look without ripping anything out. When covering tile, you may need several layers to hide the lines the grout creates. You can tint some concrete mixes before applying them over the existing countertops, or you can paint the finished product with one or several colors. A food-safe sealant over the top is the finishing touch.
Laminate
If the laminate on your existing counters is severely outdated, you can always install new laminate over the old. You can purchase laminate rolls or tiles from most major hardware stores, and they come in a variety of finishes, including solid colors or faux stone, brick or tile. Sand down your existing countertops until none of the shiny finish remains, and install the new laminate according to manufacturer's directions. This method works best when only one layer of laminate is being covered. Repeatedly covering the same counters can eventually look messy and increase the chances of the laminate peeling at the corners.
Tile
You can tile over many different types of existing countertop materials. Thoroughly sand counters to make sure that the tiles will adhere. Granite tiles can be a cost-effective and easy way to achieve a high-end look without ripping out existing counters or investing in slab granite. Lay the tile according to manufacturer's directions and grout it to complete the look.