Ghostly decorations can turn your regular suburban home into a creepy haunted house on Halloween. Besides jack-o-lanterns, consider adding a circle of dancing ghosts to your front yard. The dancing ghosts aren't scary enough to frighten young children, but spooky enough to transform a regular yard into something otherworldly. The materials to make the dancing ghosts are inexpensive, and construction takes just a few minutes.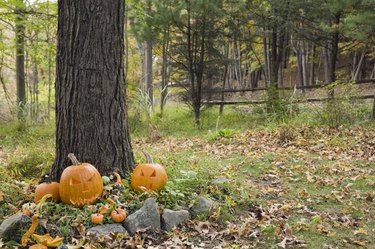 Things You'll Need
Black Marker

Twine

Old Newspaper

5 Wood Dowels, 1-Inch Diameter And 3 Feet Tall

10 Plastic Shopping Bags

5 White Sheets

Duct Tape
Step 1
Drive one dowel into the ground, so at least 2 1/2 feet is still exposed.
Step 2
Arrange the other dowels in a circle, approximately 3 feet apart.
Step 3
Double-bag a large wad of newspapers, at least 8 inches across. Turn the bag upside down over a dowel. Twist the ends of the bag tightly around the dowel, creating a round, stuffed shape. Use tape to secure the stuffed head to the dowel. Repeat with all remaining dowels.
Step 4
Drape a sheet over each ghost. Secure the sheets with a length of twine, tied just under the ghost head. Draw a ghostly face on each ghost, facing the center of the circle.
Step 5
Tie the corners of the sheets between ghosts together to look as if they are holding hands and dancing in a circle. Place a few jack-o-lanterns in the center of the ghost circle.
Tip
To highlight the ghost circle on Halloween night, consider setting up a spotlight or colored landscape light nearby.