Things You'll Need
1 cup raw long-grain white rice

1/2 cup fresh cilantro

2 tbsp. freshly squeezed lime juice

1 garlic clove

2 tbsp. butter

Salt (optional)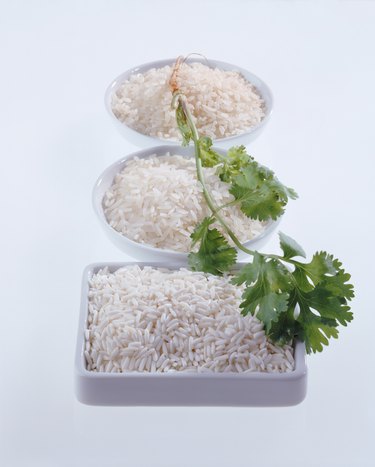 Looking to spice up your next Tex-Mex night? Serve up some cilantro-lime rice as a side dish that's out of the ordinary. The addition of earthy, peppery cilantro and zesty lime juice takes plain white rice to another level. If you've got a rice cooker, this flavorful, Mexican-inspired dish practically makes itself. Just make sure that you use fresh cilantro and freshly-squeezed lime juice for the most striking flavor.
Step 1
Prepare one cup of uncooked long-grain white rice in the rice cooker according to your rice cooker's directions. Measurements differ depending on the model, but in general one cup of uncooked rice will serve four people.
Step 2
As the rice cooks, combine the cilantro, lime juice, garlic and 2 tablespoons of water in a food processor or blender until it is finely pureed.
Step 3
Mix the cilantro-lime mixture -- along with 2 tablespoons of butter -- into the cooked white rice. Season the rice with salt to taste. Fluff it with a fork and serve immediately.