Things You'll Need
1 to 4 ounces oxygen bleach powder

Non-bleach laundry detergent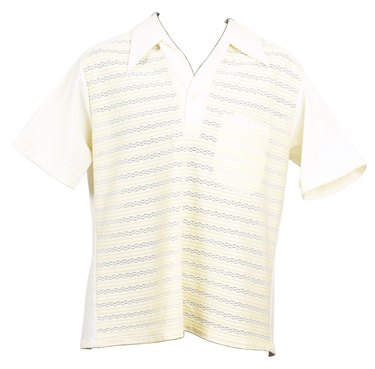 Polyester is a synthetic material commonly used in clothing due to its color-fastness, softness and resistance to wrinkles. Due to the delicate nature, most bleaches should not be used to launder polyester garments. Washing polyester with bleach can cause the polyester fibers to become brittle, shrink, burn or otherwise become very damaged. A special type of bleach, oxygen bleach, is generally safe for all fabrics and can help keep your white polyester apparel looking bright and new.
Step 1
Add soiled polyester whites into your clothes washer.
Step 2
Set water temperature to the "Hot" setting and begin the cycle.
Step 3
Add non-bleach detergent in an amount appropriate to the size of the laundry load.
Step 4
Add 1 ounce of oxygen bleach powder to the non-bleach detergent or directly onto the clothes. Add more oxygen bleach powder, up to 4 ounces, depending on the degree your polyester are soiled.