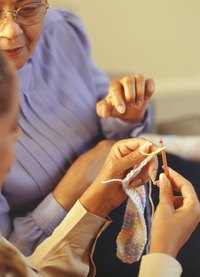 Do you love to crochet but thought socks might be too tricky for you to tackle? Think again, because these socks are so simple you'll wonder why you waited so long to try them. If you can single crochet and chain stitch, you'll have no trouble at all. Better yet, you can actually wear these with shoes because they use sock yarn, rather than thick worsted-weight yarn. Once you get the hang of it, you may never buy socks again.
Things You'll Need
Size G crochet hook
2 50g balls of sock-weight yarn
Measuring tape
Make the Cuffs
Measure the circumference of your ankle and write it down.
Chain 16 stitches. This will make a 3-inch-wide cuff. If you want a narrower cuff, chain fewer stitches to start.
Single crochet into the second chain from the hook and into each remaining chain across for 15 stitches and turn. (Row 1)
Single crochet into each back loop for 15 stitches. Chain one and turn. (Row 2)
Repeat row 2 until the piece measures a half-inch shorter than the circumference of your ankle.
Sew or crochet the short ends together to form a tube. This makes the cuff.
Make a second cuff to match the first.
Work the Foot
Measure the top of your foot, from the ankle to the base of the big toe. That will be the length you'll work this part of the sock.
Single crochet from the bottom edge of the cuff for two rounds. Aim for a gauge of four stitches per inch, so if your ankle is eight inches around, you'll have 36 stitches per round here.
Single crochet half a round, then chain for an equal number of stitches. For example, if your round is 36 stitches, single crochet 18, then chain an additional 18 stitches.
Attach the chain to the other side of the tube. This leaves an opening where the heel will be filled in later.
Single crochet around, forming a tube for your foot. Work until the piece measures 1 1/2 inches shorter than the length of your foot, not including the cuff. If your foot measured seven inches, work until the piece is 5 1/2 inches from the cuff.
Decrease one stitch on each side for 1 1/2 inches The total decrease should take about seven rows, so you'll decrease a total of 14 stitches. Leave a tail of about 12 inches.
Work the Heel
Attach yarn at the heel opening.
Single crochet one round.
Decrease one stitch at each end, continuing to single crochet around for 1 1/2 inches as for toe decrease. Leave a 12-inch tail.
Finish the Sock
Turn the sock inside out.
Thread the tail at the toe using a yarn needle.
Sew the toe seam closed. Tie off the yarn.
Thread the tail at the heel and sew it closed as for the toes.