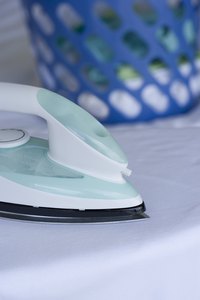 The T-shirt is a classic look, and most people love to have personalized shirts they can wear with anything. With an ink jet printer and iron-on transfer paper, you can make iron-ons with almost any design of your choice. While you can also purchase iron-on letters from most craft supply stores, creating your own letters makes the design more personal, and the process unleashes your inner creativity.
Things You'll Need
Inkjet printer
Iron-on transfer paper
T-shirt
Make your letter design with whichever computer program you choose. Print out your letters onto transfer paper. Select "mirror," "flip" or other similar option before printing. This tool prints the letters backwards, so when you iron the letters onto your shirt, they will face the correct way.
Remove your printed sheet from the printer and allow the ink to dry completely. Cut out your letters. You may cut each letter individually or if you printed the full name, cut it out all together.
Place the iron-on face down on your T-shirt. Press with an iron on its highest heat setting. Press with firm pressure for 15 to 20 seconds; press straight down and lift up. Continue to press with a circular motion for another 15 to 20 seconds.
Peel back the transfer paper backing very gently. If the letters are still on the paper backing, put the paper back down and iron with a circular motion. Remove the paper and allow the letters to cool.