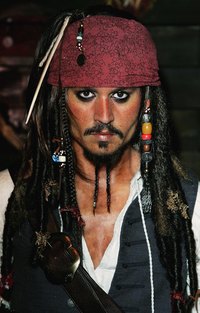 The Jack Sparrow scarf is a large bandana, which you can choose to wear folded as a headband around the forehead or to cover the entire head. Using a dark wine red colored fabric with a paisley print and making the beaded charm will create an authentic-looking Jack Sparrow headscarf. With basic sewing knowledge, you can make your own bandana to finish off your pirate costume. Wear your costume for Halloween, a costume party or for a Renaissance Festival.
Things You'll Need
Burgundy printed cotton fabric
Straight pins
Sewing machine
Thread
Beading cord
Beads
Cut the fabric into a 42-inch square. You will need a piece of fabric 1 1/4 yards that's at least 45 inches wide.
Create a small rolled hem on one the edges of the fabric. Fold the edge twice to the smallest hem you can achieve, such as a 1/4-inch width. Add straight pins as you roll the hem.
Stitch the hem on the sewing machine using a straight stitch. Begin stitching on the end and remove the pins as you go along to avoid the hem coming undone.
Roll, pin and stitch a hem on each of the other three sides, one side at a time.
Create the beaded dangle, if desired. Cut a piece of thin cotton or twine beading cord about 7 inches long. Tie a knot on one end of the cord and then thread your beads onto the cord. Use a variety of large wood and metal beads, referring to a photo of Jack Sparrow for ideas on the types of beads you want to use. Thread the entire cord, leaving about a half an inch without beads. Tie a knot to secure the other end of beads.
Fold your finished scarf to the width you desire to cover your forehead, then hand stitch the beaded cord to the center top edge of the scarf to secure.