Add a little flair to your basic baby shower decor of streamers and banners with rubber balloons shaped like pacifiers. Balloon pacifiers are made by blowing up, shaping and tying balloons together. This creative and inexpensive choice will make a bigger impression than expensive metallic balloon options. Use pink for a girl and blue for a boy, or try yellow, green and lavender for a colorful, gender-neutral display.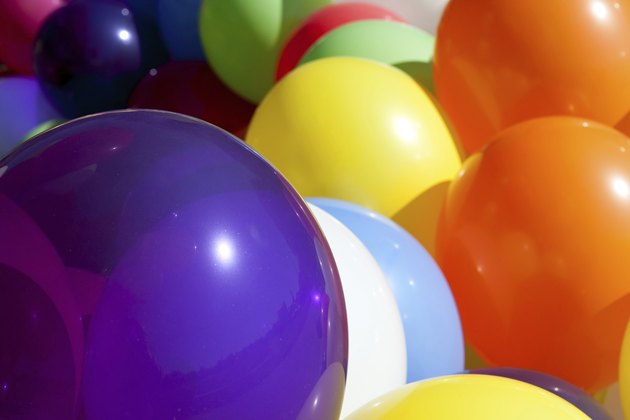 Things You'll Need
12-inch balloon

Four 5-inch balloons

"Animal" balloon, #260 size

Balloon pump

Helium tank

Curling ribbon

Scissors
Step 1
Blow up the 12-inch balloon with helium. Tie off and set aside. This will be the "sucker" part of the pacifier balloon.
Step 2
Blow up the 5-inch balloons with a balloon pump.
Step 3
Tie the four 5-inch balloons together at the knots with curling ribbon, laying the balloons flat with the knots facing each other. This will be the base of the pacifier.
Step 4
Tie a 12-inch balloon on top of the 5-inch balloon cluster at the knots with curling ribbon.
Step 5
Blow up a #260 "animal" balloon with a balloon pump, leaving a little at the end unblown. Bend it into the shape of a circle and gently tie the loose ends of the balloon together to form the ring for the pacifier. Attach it with curling ribbon to the bottom of the 5-inch balloon cluster.
Step 6
Attach a long string of curling ribbon around the ring of the pacifier balloon, just below the guard, so you can hang it.
Tip
Hang the pacifiers by taping the ribbon to the ceiling of the baby shower room. But make sure they are hung high enough that they don't get in the way when you're trying to walk.
Try making other baby-related objects from balloons. For instance, fill a round balloon up with small jingle bells, and then attach it to a long balloon to make a baby rattle.