Things You'll Need
Cloths

Sponges

White vinegar

Bowl

Liquid fabric softener

Bucket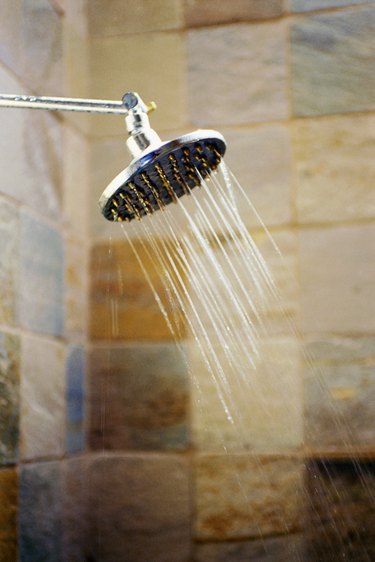 No matter what style of shower you have, proper cleaning and regular maintenance can keep it looking its best. If your bathtub or shower enclosure sports clear-coated glass doors, using the right materials to keep those doors clean helps prevent streaking, spots and other common problems.
Step 1
Open the doors to the tub or shower enclosure so you can access as much of the glass as possible. Wipe the doors and the shower walls with a soft, dry cloth after every shower to prevent mold and mildew from taking hold.
Step 2
Dip a clean sponge in a bowl of pure white vinegar. Wring the sponge out until it is wet but not sopping.
Step 3
Wipe the shower doors thoroughly, starting at the top and working your way down. Push moderately hard on the sponge as you move down the shower doors, which helps prevent streaking and keeps your shower doors looking their best.
Step 4
Mix 1 cup of liquid fabric softener with 1 quart of warm water. Dip a soft cloth or sponge in the solution, and use it to clean away soap scum.
Step 5
Pour 1 cup of white vinegar and 1 cup of water into a bucket. Dip a sponge or cloth in that solution, and rub it over any calcium deposits or hard water stains. Allow the solution to sit on the stains for 10 to 15 minutes, then wipe them away and dry the shower doors with a soft cloth.