Things You'll Need
Starfish

Sheets of newspaper

Paper plate

Foam craft brush

Craft glue

Glitter

Clear acrylic spray sealer

Ribbon

Ruler

Scissors

Bead cap

Industrial-strength adhesive

Paper towel dampened with water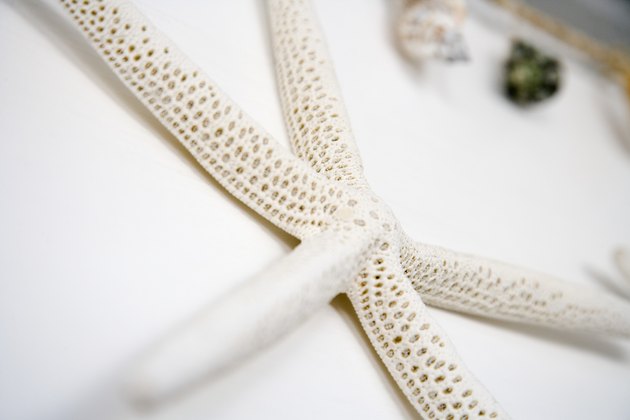 Starfish, also known as sea stars, make whimsical souvenirs from beach vacations and welcome reminders of summer throughout the year. You can turn a starfish into an ornament for gift-giving or displaying on your holiday tree. Starfish blend well with nautical decor and other beach-themed ornaments such as seashells. For a more elegant look, decorate your starfish with glitter and use a bead cap to attach the ribbon. Starfish with five thin arms, known as finger or pencil starfish, work well for this project.
Step 1
Spread sheets of newspaper across your table or other work surface to keep it clean. Lay the starfish on the paper plate. Use the foam craft brush to apply a thin coat of craft glue over the front of the starfish. While the glue is still wet, sprinkle glitter over the surface. Allow the glue to dry.
Step 2
Turn the starfish over and repeat the process on the back. Allow the glue to dry. Gently tap the starfish against the paper plate to remove the excess glitter.
Step 3
Spray a light coat of clear acrylic spray sealer over the glitter to help it adhere to the starfish. Let the surface dry. Turn the starfish over and repeat on the other side. Apply a second coat to each side if needed.
Step 4
Cut a piece of ribbon approximately 18 inches long. Thread it through the hole in the top of the bead cap. Tie a knot using the ends of the ribbon to form a loop for hanging your ornament on a tree. Trim the loose ends of the ribbon with scissors.
Step 5
Apply a small drop of industrial-strength adhesive to the inside of the bead cap. While the adhesive is still wet, place the open end of the cap over the tip of one of the arms of the starfish. Pinch the end of the cap around the tip to ensure a tight fit. Wipe off any excess adhesive from the cap with a wet paper towel. Allow the adhesive to dry before moving your starfish ornament.
Tip
Choose a bead cap wide enough to fit over the tip of the starfish.
If you use a starfish you found on the beach, you must clean, preserve and dry it before making your ornament. Rinse off sand and debris with water. If it is still dirty, clean it with a diluted solution of dish soap. Soak your starfish in rubbing alcohol for 48 hours. Allow it to dry in the sun. Weigh down the arms so they remain flat while drying.
If you can't get to the beach, you can purchase starfish at many craft stores.
Warning
Only use the adhesive and spray sealer in a well-ventilated area and be careful not to inhale any fumes.