The outrageous fashions of the disco era provide perfect inspiration for a sassy costume. Whether the occasion is Halloween or a funky '70s-themed house party, women can find plenty of clothing options to put together stellar disco outfits. Many of the styles from the '70s disco days have made a comeback, while others can be found easily in vintage clothing stores. With some imagination and a little hunting through stores, any woman can turn herself into a disco diva for a night.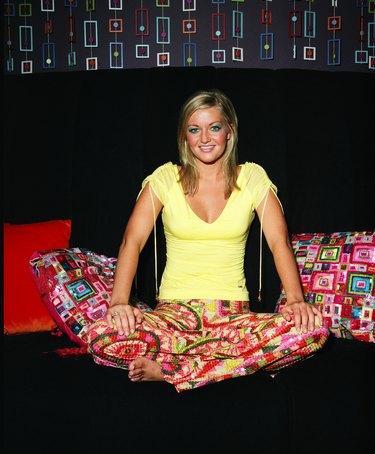 Things You'll Need
Wig

Scissors

Sparkly Shirt

Bell-Bottom Pants

Miniskirt

Platform Shoes
Step 1
Purchase '70s-style pants at a vintage clothing store or thrift store. The ideal style is bell-bottom pants that flare wide at the leg. Bright colors or patterns and fabrics such as velvet or satin are preferable.
Step 2
Purchase a miniskirt at a vintage clothing store if you prefer to wear a skirt instead of pants. Disco-style skirts flare out and end at mid-thigh, or higher if you choose. The skirt can be any material from denim to satin. Choose one that is as brightly colored as possible.
Step 3
Purchase a sparkly shirt made of metal lame fabric or a shirt covered in sequins. Preferable styles include halter tops that tie around the neck and back, or spaghetti-strap tank tops. If these are not available, purchase a metallic shirt of any style and wear it as-is or make alterations.
Step 4
Convert your sparkly shirt to a midriff top if you wish. Cut a vertical slit with scissors from the bottom of the shirt moving upward in either the front or back, depending on your preference. Make the slit between 3 and 6 inches long, depending on how high you wish to tie the shirt. Once the cut is made, tie the two sides of the shirt together in a knot in either the front or the back, creating a disco midriff top.
Step 5
Purchase shoes that are appropriate for the '70s disco style. These include knee-high boots with a square, chunky heel, or shoes with either a platform or wedge heel. Buy these shoes either in a vintage clothing store or in a costume shop. Regular shoe stores also carry some of these styles, such as wedge heels.
Step 6
Purchase a disco-era wig in a costume shop. Styles synonymous with disco include long, feathered layers or large Afros. If you prefer an Afro wig, buy one in a bright color that matches your outfit.
Tip
For a true disco makeup look, wear lots of baby blue eyeshadow, false eyelashes and shiny lip gloss.