Things You'll Need
Paper or fabric cutouts and pictures

Decoupage medium or white glue

Acrylic spray sealant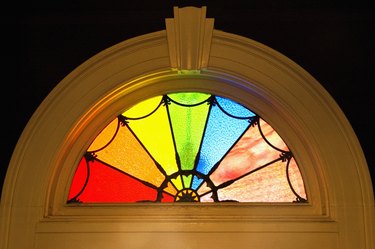 You can use decoupage techniques, in which you stick paper or fabric objects onto a surface that is painted with glue or decoupage medium and then seal the objects with the glue or medium, to decorate a glass window. Choosing thin tissue paper or rice paper cutouts will create a stained glass look, whereas you can even use old greeting cards and pictures of trees to decoupage your windows with a festive spirit. You can even create a haunted house atmosphere with black, white and orange cutouts of witches, skulls and crossbones and pumpkins. The process is simple and enjoyable.
Step 1
Clean and dry the window glass thoroughly. Spray several coats of acrylic sealant onto any very fine cutouts, such as rice paper or tissue paper designs.
Step 2
Brush an even layer of decoupage medium or white glue onto the front of your window. Let it dry for 20 to 30 minutes and then brush another layer of glue or medium over it.
Step 3
Affix the first layer of your decoupage cutouts to the prepared surface as quickly as possible before it dries and brush another layer of medium or glue onto the cutouts. Allow the glass pane to dry for 20 to 30 minutes.
Step 4
Brush another layer of medium or glue over the objects and any exposed glass. Affix any remaining cutouts onto the prepared surface. Wait 20 to 30 minutes for the surface to dry.
Step 5
Apply one or two final layers of decoupage medium to the surface. Wait 20 to 30 minutes in between coats.
Step 6
Finish with a thin, even coat of acrylic sealant or one more coat of medium or glue for a shinier finish.