Things You'll Need
White craft glue

Wooden craft stick

Scissors

Decoupage paper

Object to decoupage

Small paint brush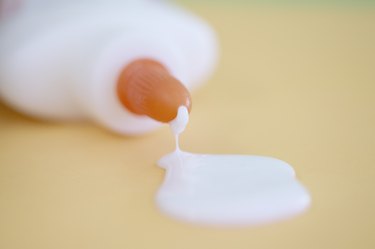 Decoupage is the art of decorating objects with cut out pieces of patterned paper. Nearly any object can be decoupaged as long as the paper cut outs are sized appropriately. Popular items to decoupage include cardboard boxes, ceramic figurines and all types of furniture. An initial layer of glue secures the cutouts to the object, and several top layers seal the paper and smooth the surface. Glue is sold pre-mixed, or you can make your own with plain white craft glue and water.
Step 1
Mix 1-1/2 cups white craft glue with 1/2 cup water. Stir with a wooden craft stick.
Step 2
Cut various shapes out of paper and lay them out the way you want to adhere them to the object you are decorating.
Step 3
Dip a paintbrush in the glue and apply a thin layer of glue to the object. Press the paper into the glue. Continue until the piece is covered. Allow the glue to dry at least one hour.
Step 4
Apply a thin layer of the glue mixture over the top of the entire object with a paintbrush. Allow to dry for at least one hour. Repeat until the layer of glue is smooth and you can no longer feel ridges between the sections of paper.