Things You'll Need
Colored tissue paper

Green tissue paper

Green chenille

Floral tape

Scissors

Pencil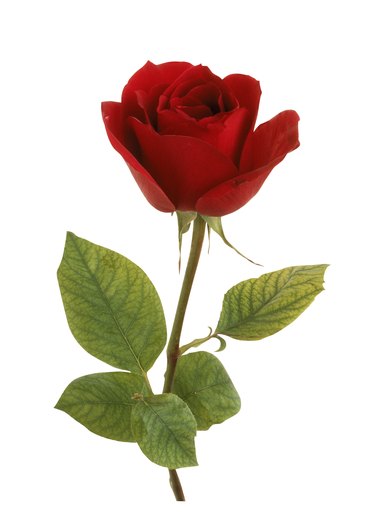 Tissue paper roses are perfect to use as decorations, gifts or for scrapbooking. Not only are they inexpensive, but if you know someone with allergies they are a good alternative to the real flowers. Thin sheets of tissue paper make it possible to copy the look and texture of a real rose. Rather than creating the whole flower from one sheet of tissue paper, you'll achieve a more realistic look by making individual petals and assembling them. Choose any color of tissue paper for your rose petals.
Step 1
Cut the colored tissue paper to make seven or eight pieces that are approximately 3 inches square. They do not have to be perfectly square or identical since they will form individual petals.
Step 2
Trim the edges of the petals, removing the corners to create rounded petals.
Step 3
Roll the petals around the pencil to shape the tissue paper, and then separate the petals.
Step 4
Select a petal and roll it to form the center of the flower.
Step 5
Chose another petal and layer it over the first.
Step 6
Continue layering the petals to form the rose. Grasp the petals tightly at the bottom and slightly twist the tissue paper to hold the petals together.
Step 7
Twist the chenille tightly around the bottom of the rose after you finish placing all the petals. Make sure the outer petals do not slip down
Step 8
Cut the green tissue paper into the shape of leaves and roll them around the pencil.
Step 9
Wrap the floral tape around the stem, beginning at the base of the rose.
Step 10
Hold a leaf against the stem and secure it with the floral tape as you wrap. Add as many leaves as desired.
Step 11
Reshape the petals or leaves if necessary.
Tip
To make a larger rose, simply add more petals. You can lightly mist your tissue paper rose with a rose-scented perfume.