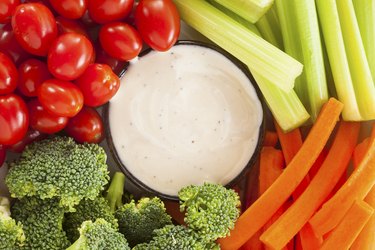 Veggies carved into the shape of baby bottles on a serving tray are sure to wow your baby shower guests, but your vegetable tray doesn't have to be that elaborate to impress. Look for ways to incorporate sweet, delicate touches into the tray, and keep the guest of honor in mind. Check on any veggie-related cravings and aversions she's experiencing so you can tailor the platter to her special needs.
Pregnancy Considerations
All guests will enjoy an attractive veggie platter, but the safety of the guest of honor comes first. Protect her from harmful bacteria by cleaning all vegetables under running water, using a vegetable brush to remove any surface dirt. Cut away any bruised or cut areas, advises the U.S. Food and Drug Administration, as bacteria can live in these places. Keep raw sprouts and store-bought salads off the tray and don't make veggie dip using soft cheeses unless they're made with pasteurized milk.
Prep the Veggies
A baby shower is typically a girly affair, so aim to make the vegetables look elegant. Cut long vertical notches out of carrots and cucumbers. When you slice them, the pieces will have scalloped edges. Use very small cookie cutters shaped like flowers or the first initial of the mom or baby to cut up slices of bell peppers, jicama and cucumbers. Alternately, fill the tray with all baby vegetables. You can purchase carrots, corn, beets, zucchini and squash in baby versions, but most of them are best served cooked. Roast them and serve them with toothpicks for an unexpected take on the typical veggie tray.
Create Dip Options
Provide at least a few dip options to please the crowd. You might make one simple dip of sour cream, mayonnaise, minced onion and dill and another using roasted red pepper, roasted tomato and roasted garlic. Hummus, either store-bought or homemade, is sure to be a hit, as is a spicy black bean dip or chunky guacamole. If you're serving roasted veggies, a warm bowl of artichoke or cheese dip is the perfect complement.
Decorate the Tray
If the mom-to-be has shared news of the baby's gender, use color to brighten up the tray. Arrange pink or blue doilies over the platter before arranging your vegetables, or use pink or blue platters and dip bowls and set out colored toothpicks. If you don't know the gender, use pastel yellow or green accents. Since you're feeding a crowd, set out cards with the the names of the dips and their ingredients in order to prevent any issues with allergens and dietary preferences.