Things You'll Need
Silk flowers

Vines (optional)

Bouquet holder (round with sponge filling)

Tin snips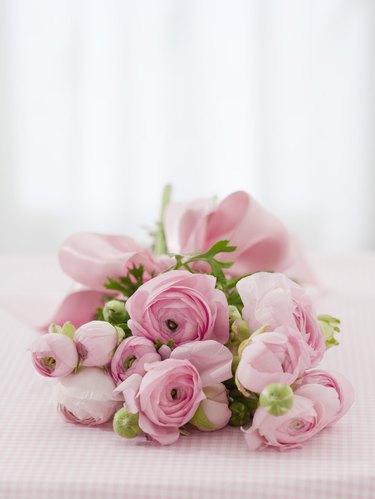 Knowing how to make your own teardrop wedding bouquet can save money for a bride-to-be. Flowers are sometimes a large chunk of the wedding budget; however, costs can be cut by using fake or silk flowers instead of fresh. Further money can be cut from the flower budget by making the bouquet yourself. Make the project well ahead of time in case the first try does not come out as desired.
Step 1
Decide on the length of the bouquet and cut the stem of one silk flower using tin snips. This will be the point of the tear drop. Place the stem of the flower at the very bottom point of a round, sponge-filled bouquet holder.
Step 2
Cut two silk flowers 1 inch shorter than the first flower stem. Place the flowers into the bottom of the holder, one on each side of the first. Cut two more flowers 1 inch shorter than the second set and place on the outside of the first three flowers, one on each side. Cut two more flowers 1 inch shorter than the second set and place them on either side of the developing bouquet.
Step 3
Build a second bottom layer of the bouquet. Cut a flower stem 2 to 3 inches shorter than the longest. The bud of the flower should lay just above the bud of the original flower. Repeat this for each of the flowers in the first layer. Place them in the holder in front of the first stems.
Step 4
Cut four stems 2 to 3 inches long and stick into the top of the holder. This begins forming the top of the tear drop. Cut five flower stems to the same length and make the first center row of the bouquet across the front top of the bouquet holder. Repeat this action for the third row.
Step 5
Fill in the rest of the bouquet holder with rows across of six flowers until you reach the bottom. Cut all the stems to the same length as the first top rows. Arrange the buds of the silk flowers to align side-by-side. Bend down the bottom flowers slightly to blend into the bottom hanging layers.
Tip
To elongate the bouquet, add vines behind the longest bottom flowers.
Warning
If using multiple colors for the bouquet, you will need to work out the color scheme before cutting the stems. Cut as you go along to ensure the right colors or type of flowers go in the right spot.