Things You'll Need
Paper cutouts including pictures from magazines, old photographs, etc.

Fabric decoupage medium

Acrylic sealant for decoupage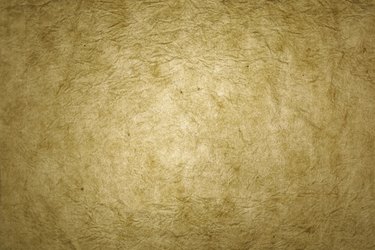 Decoupage is a time-honored craft that you can enjoy with your children. It involves pasting paper or fabric objects onto a surface that you prepare with a simple non-toxic glue called decoupage medium. While fabric is usually glued onto harder objects, you can create a fabric wall hanging or similar fabric decoration by decoupaging paper objects onto a fabric backing. You only need to use a decoupage medium that is specifically made for use with fabric surfaces.
Step 1
Cut the fabric backing to size and iron it if need be to remove wrinkles or fold marks. Do not use overly porous fabric such as sheer, silk or elastic fabric. Lay it flat on a smooth surface such as a desk or table.
Step 2
Brush an even coat of decoupage medium onto the fabric in order to stiffen it, and let it dry for 20 minutes. Spray any very fine cutouts, such as shapes cut out of rice or tissue paper with acrylic sealant so that they are stronger and easier to handle.
Step 3
Brush another coat of decoupage medium onto the fabric. Place the first layer of paper objects onto the fabric, and brush them with a layer of medium as well. Allow the medium to dry for 20 minutes.
Step 4
Lay any additional objects that you want to add to your decoupage onto the surface, and brush the entire surface with decoupage medium again. Allow 20 minutes for the medium to dry.
Step 5
Brush the surface with one or two additional sealing coats of medium to protect the paper cutouts, and further reinforce the decoupage. Allow 20 minutes drying time between the first coat and the optional second coat.
Step 6
Spray the entire decoupage with acrylic sealer to protect it before you frame or otherwise display your paper-on-fabric creation.