Things You'll Need
Measuring tape

Plastic car mat

Utility knife

Staple gun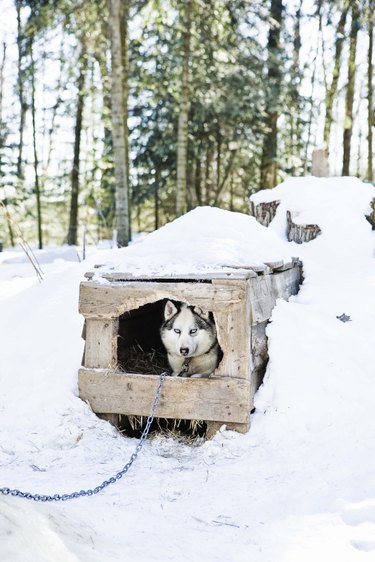 A dog house gives your dog a place to take shelter when it is not in your home, protecting the dog from the elements when it rains or snows. To ensure that the dog house gives your pet the protection it needs, install a plastic flap over the door to keep it warm. A heavy plastic flap keeps out the rain and also keeps the dog house more insulated, which allows your dog to stay warm during bursts of bad weather.
Step 1
Measure the opening of your dog house door and add 1 inch to the height. When measuring, lay the tape around the inside of the door rather than the lintel or the wooden edging to ensure that the door swings easily.
Step 2
Use a utility knife and cut a rectangle from a plastic car mat that matches the measurements that you found in Step 1.
Step 3
Staple the car mat to the top of the dog house door using a staple gun. The car mat should be stapled so that the top is attached to the dog house while the other three sides are loose.
Step 4
Trim the mat down with the utility knife if necessary to ensure that it swings easily.
Tip
You can also use a carpet remnant for this purpose.
If the car mat is too stiff and your dog has problems entering and leaving, cut a slit down the middle of the flap to allow your dog to get in and out easily.