Things You'll Need
6 tablets effervescent antacid

2 denture cleaning tablets

Baking soda

Garbage bag

Oven cleaner

Rubber gloves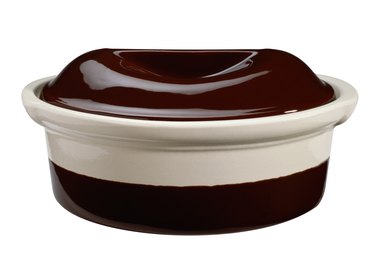 Burn marks quickly turn a nice-looking dish into one that appears old and uncared-for. Removing the burn before the pot is used again prevents the burn from becoming even more ingrained in the surface. Rather than scrubbing the pot with a harsh abrasive cleaner or a rough pad that could damage the surface, there are gentler ways to rid the pot of burn marks.
Step 1
Fill the pot with water, or immerse the pot in enough warm water to cover the burn mark, and drop in six tablets of an effervescent antacid. Allow the pot to soak for one hour, and then wash off the mark.
Step 2
Fill the pot with enough warm water to cover the burn, and add two denture cleaning tablets. Wait for the fizzing to stop, and wash away the mark.
Step 3
Spread a paste of baking soda and water over the burn. Rub the surface vigorously with a soft cloth until the mark is gone.
Step 4
Place the pot in a heavy garbage bag and spray the mark with oven cleaner. Close the bag tightly and allow the bag to stand overnight. Open the bag outside to release the fumes. Wear rubber gloves to remove the pot and wash off the burn.