The origami fortune teller, also known as an origami oracle game, is a classic game of childhood. With a few folds, you can turn a square of paper into a versatile paper game that has four hinged segments or "pockets" and four flaps that can fold up to reveal hidden messages. Kids can use the thumb and forefinger of each hand to play a rhyming game, by alternately opening the toy vertically and horizontally.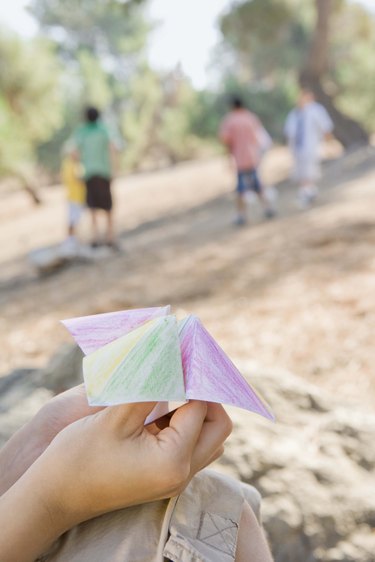 Things You'll Need
Markers

Square Sheet Of Paper
Step 1
Fold the paper diagonally so that one pair of opposite corners meet. Unfold and repeat with the other pair of opposite corners. Unfold to reveal two folds forming an X shape that crosses in the center of the paper.
Step 2
Fold each corner of the paper to the center point.
Step 3
Turn the paper over, leaving it folded. Fold each of the corners of the smaller square to the center point again, creating four flaps. Unfold the flaps and write one word in each of the eight small triangles that form the central square beneath the flaps. Close the flaps again.
Step 4
Label the eight segments on top of the paper with letters. Fold the toy gently in half and stick your thumbs and forefingers into the four flaps on the underside of the paper, allowing four pockets to pop up around your fingers. Use different colors to color the outsides of the four pockets. (The pockets were the flaps on the underside of the paper.)
Step 5
Choose a number and a color. Alternate between opening the toy horizontally and vertically, counting until you reach your number. Find the letter on the inside that lines up with your chosen color on the inside. Repeat with a new number and a new color, then lift the corresponding flap to reveal a word. Think of as many words as you can that start with the letter and rhyme with the word.