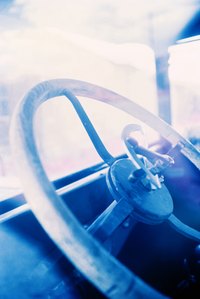 Pretend play is important for children's development. It causes them to think about the world around them and teaches the beginning components of skills they will need in the future. Many young children love to pretend they are driving a car. They gravitate toward pretend steering wheels at playgrounds, and they love it when they are allowed to pretend to drive their parents' car when it is off. You can make your child a steering wheel out of a paper plate that he can use to pretend to drive anytime.
Things You'll Need
Paper plate
Pencil
Scissors
Ruler
Construction paper
Glue
Markers, crayons or paints
Draw a circle in the center of a paper plate. If you'd like, you can trace around a circular object to make an even circle. The circle should be about 6 inches in diameter.
Cut out the circle. To make it easier, fold the plate in half gently and make a small slit in the center. Then unfold it, insert the scissors in your slit and cut outward around the circle.
Measure the widest point of the circle. Cut a strip of construction paper that is 1 inch longer than your circle and 1 1/2 inches wide.
Cut another strip of paper that is half as long as the first and is 1 1/2 inches wide.
Glue both sides of the longer strip of paper to the back of the plate. Position the strip at the widest point of the circle.
Glue one side of the shorter strip to the middle of the long strip. Glue the other side to the bottom of the circle.
Allow the child to decorate the steering wheel with markers, crayons or paints.