Things You'll Need
Thin fabric or netting

Washable marker

Scissors

Needle

Thread

Pins

Safety pin

12 inches of 3/8-inch wide ribbon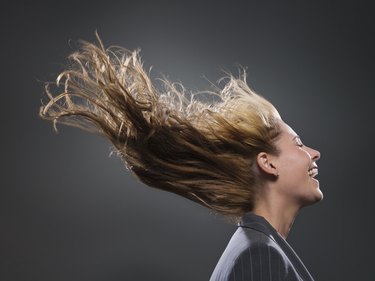 A snood is basically a bag that hangs from the back of the head to hold long hair. They usually have a vintage look to them and were popular throughout history until around the mid-1950s. They can be worn across the head like a headband or around a ponytail or bun. They have been knitted, crocheted and sewn from a variety of materials and are easy to make.
Preparation
Step 1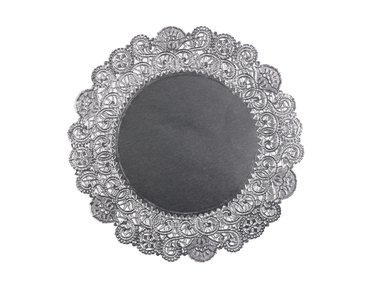 Draw a circle onto the back of a piece of fabric or netting with washable marker, 6 to 8 inches across for shorter hair, 10 to 12 inches across for longer hair.
Step 2
Cut the circle out of the fabric, leaving 1 inch of fabric outside of the drawn circle.
Step 3
Cut a piece of ribbon 12 inches long.
Assembilng the Snood
Step 1
Fold the outer inch of the fabric circle in towards the center of the circle, pinning the edge of the fabric just inside the marked circle. The outer fabric will fold over itself to match the size of the drawn circle.
Step 2
Stitch around the the edge of the fabric with a needle and thread, placing your stitches 1/2 inch from the folded edge. Leave a 1-inch opening unstitched. If the fabric ravels easily, use a zigzag stitch to secure the fibers.
Step 3
Pin a safety pin to one end of the ribbon and thread the pinned edge through the casing created between the folded edge and the stitching of the fabric. Pull the ribbon through the opening so that both ends extend out of the casing by several inches.
Step 4
Stitch a tight straight stitch across the each end of the ribbon to prevent fraying.
Step 5
Place hair in the fabric and pull the ribbons tight. Wrap ribbons around the hair, close to the head, and tie to secure. The snood can be secured to the head with bobby pins or by tying the ribbons around a ponytail holder or barrette.
Tip
Lighter, sheer fabric works best for this project.
Knitted or crocheted doilies or other round cloths can be substituted for traditional fabric. Mesh craft rounds of fabric can also be used. Snoods can be worn around the whole head or around a ponytail or bun.
Warning
Heavy fabrics will appear bulky and oddly shaped.