Things You'll Need
Bow and arrow set

Olive branch vine

Queen size ivory flat bed sheet

Gold ribbon

Gold sheer fabric

Safety pins

Thin gold bangle bracelets

Roman-style gladiator sandals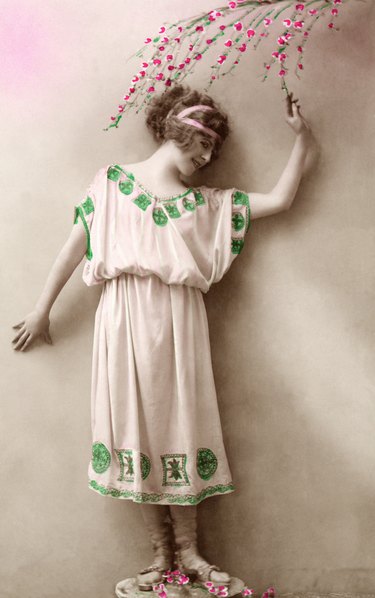 With a few easy costume pieces, you can dress up as the Greek goddess Artemis. In Greek mythology, Artemis is the goddess of a contradictory assortment of things, including wild animals, hunting, the wilderness, childbirth and protecting girls until they married. Oddly enough, Artemis also bestows sudden death and disease on women and girls. Armed with some background history on this Greek goddess and the right costume, you can ensure you are ready for any costume party or school project on Greek mythology.
Step 1
Fold the ivory bed sheet in half horizontally. Make sure make sure to use a sheet fabric that is thick enough so the foundation of the costume is not transparent.
Step 2
Wrap the sheet around your waist once or twice depending upon your waist measurement. For an Artemis costume, the bottom of the sheet should hit at your knees.
Step 3
Secure the skirt of the toga by placing a safety pin where the two ends meet.
Step 4
Drape the remaining sheet fabric over the bust and across one shoulder. This remaining fabric is from the rest of the sheet that was not used when wrapping the skirt.
Step 5
Safety pin the "back" of your toga into the back of your skirt to complete construction. The back of the toga is made up of the remaining draped fabric that was pulled up to your shoulder to create the toga front. In this step, you are simply finishing the top by pulling the fabric over your shoulder and pinning it to the back of your skirt.
Step 6
Cover your ivory toga with gold sheer fabric in the same way you put on the toga. Cinch both the sheet and the gold fabric at your shoulder by tying them tightly with a gold ribbon. Add a regal touch to the Artemis costume by wrapping a gold ribbon around your waist as a belt. This will also cover the safety pins.
Step 7
Cut an olive branch vine, either real or fake, and wrap it around your head as a headband. If necessary, pin it into place with bobby pins.
Step 8
Finish your costume by adding accessories such as Roman-style gladiator sandals, thin gold bangle bracelets on your wrists and a bow and arrow set over your shoulder.
Tip
Artemis had a twin brother named Apollo. A man and a woman could go to a costume party together dressed as the brother-sister duo from Greek mythology.
If you need more fabric than a queen size flat sheet provides, use a king size flat bed sheet to make the toga.