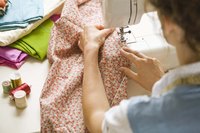 Complete a crocheted afghan, giving it a professional look with a soft lining and satin binding. If you are giving the afghan as a gift, adding these touches may make it even more special. Rather than sewing the lining and binding onto the afghan as soon as you finish crocheting, take the time to block the afghan so it lies straight. To complete this process, you should be familiar with blocking and sewing by machine. You also need to be comfortable working with satin and creating mitered corners.
Things You'll Need
Tape measure
Soft fabric – Velux or a Minky fabric
Scissors
Long straight pins
Sewing machine
Sewing thread
Satin lining
Tub full of lukewarm water
Gentle detergent
4 clean bath towels
Block the completed afghan if you used a yarn made of natural fiber such as cotton or wool. See the Tips for the process.
Measure the afghan on all four sides with a tape measure. Measure and cut out the backing fabric, adding an additional inch on all four sides. Carefully pin the cut backing fabric to the afghan.
Thread the sewing machine with a sewing thread of a matching color. Sew the backing to the afghan.
Add up the lengths of all four sides of the afghan. Use this number, plus 2 inches, to determine how long the satin binding should be. Pin the binding to the afghan binding, positioning the end of the backing to one edge of the afghan. Carefully pin the binding to the backing, making sure you are pinning it on straight. Turn the ends under 1 inch, creating hems.
Miter the corners by sewing the binding to the corner of the backing. Remove the afghan from the sewing machine and cut the threads, not the binding. Fold the binding, forming a pleat on the binding. Pin both the top and bottom.
Slide the afghan corner back under the sewing machine needle and resume sewing. Repeat for the remaining three corners. Backstitch at the mitered corners so the sewing holds. Take the completed afghan off of the sewing machine and cut the threads as close as possible to the stitching.