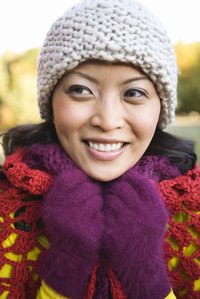 As a beginner knitter, the idea of knitting something in the round can be intimidating. With all the options available for this type of knitting it may seem overwhelming to even know where to start. However, just because you want to knit a hat doesn't mean you have to knit it in the round. Knit a hat flat on two needles using bulky weight yarn and you can step into the world of hat knitting one beginner step at a time.
Things You'll Need
Bulky weight yarn
Size 11 U.S. knitting needles
Scissors
Embroidery needle
Cast on 64 stitches using bulky weight yarn and size U.S. 11 needles. To do this, make a slipknot on the left needle with your yarn. Bring the working yarn (attached to the ball or skein) under the needle, then cross it back over itself to make a loop with the working yarn tail nearest the needle. Slide this loop onto the left needle and pull the yarn to tighten it. Repeat this 62 more times.
Knit the ribbed brim of your hat. To do this, repeat this pattern across the first row: knit two, purl two. Repeat this row a total of six times.
Knit the body of the hat. To do this, for right side rows, knit every stitch across the row. For wrong side (back side) rows, purl every stitch across the row. Repeat this process until the hat measures approximately 9 inches tall.
Cut the working yarn, leaving a 12-inch tail. Thread this tail onto an embroidery needle. Pass the needle through each stitch on the left knitting needle, working from right to left. Slide the stitches off the knitting needle once they have been threaded onto the yarn.
Pull on the yarn tail to close up the top of the hat like a drawstring. Let the sides of the hat come together, with the purl side (wrong side) of the hat showing out for now. Make a few stitches in and out of the top of the hat to hold the gathering in place.
Use your yarn tail to stitch down the side of your hat, attaching the sides together. Bring the yarn through side A and then through side B, pulling tightly to sew them together. Repeat this all down the side. Then weave the tail in and out of the stitches on the brim to hide it.
Turn the hat right side out to wear it.