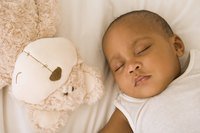 Create a unique stuffed-animal blanket for your favorite baby. Sewing a plush animal head into your fleece blanket gives baby something to cuddle while they are sleeping. Use fleece and embroidered facial features to create a safe and comfortable snuggle buddy. This is a perfect gift for a baby shower or for children of all ages. Fleece is a lightweight, easy to clean, warm and durable fabric that is soft to the touch, making it perfect for this project. You don't have to be an accomplished crafter to make this simple pattern.
Things You'll Need
Fleece fabric
Poster board
Scissors
Marker
Embroidery thread
Needle
Sewing machine
Polyester stuffing
Pins
Draw the outline of an animal head in profile on your poster stock. Choose an animal head that is relatively simple and easily distinguishable. Draw a 1/4-inch border around the head. This extra fabric will be used for hems. Leave a couple of extra inches in the neck for sewing. Cut out the animal head outline.
Place the poster board template onto the fabric and draw around it with a marker. Flip the template over and trace around it again. Cut the tracings out with the scissors.
Place the two cut-out pieces on top of one another and hem the outlines, leaving the bottom, neck area open. Make the hem 1/4 inch from the edge of the fabric. Turn the head the right way around.
Thread the embroidery thread through the needle and tie it off. Use a few colors or just black to embroider a face onto your fleece animal. Include eyes, nose, whiskers and a mouth. You can embroidery these details with lines or circles. Ensure that the knots from the embroidery are inside the animal head.
Stuff the head with polyester stuffing and sew the neck shut. You can sew on the outside of the head, about 1/4 inch from the bottom edge.
Cut two fleece squares that are the same size. Add a 1/4 inch of fleece for a hem. Place the right sides of the fabric together and sew a hem all the way around, 1/4 inch from the edge. Leave 3 inches on each side of the top right-hand corner open. Make the blanket as big or as small as you want.
Turn the blanket inside out, through the hole you left in the corner. Fold over a 1/4-inch hem around the corner and pin it down on both sides. Do not pin the sides together. Place the animal head into the corner hole and pin it in place.
Sew around the corner, sealing the blanket and securing the stuffed animal head in place. Remove the pins as you go.