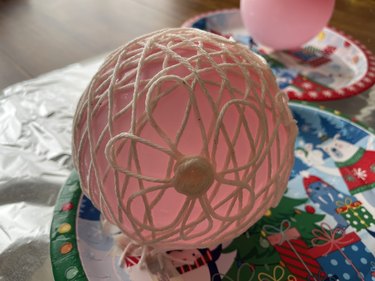 Creating objects with string and liquid starch is a fun way to try out the string art trend. Instead of making string art designs on wood, this craft project allows you to make three-dimensional objects out of string. Similar to papier-mâché, making this type of string art craft with liquid starch requires the use of a latex balloon as the form. You'll apply and layer pieces of cotton string (or yarn) atop this form to create spheres, bowls and baskets.
In this step-by-step tutorial, we'll go over how to create simple shapes using liquid starch and strands of cotton yarn. This balloon string art is an excellent base for other craft projects, home decor pieces and gift ideas—including popular string Easter eggs made with liquid starch, Christmas decor items such as snowman string art or string art ornaments and even some fun Halloween craft ideas.
No matter the occasion, here's what you need to know to get started, including a breakdown of necessary craft supplies and a step-by-step string art tutorial.
How to make DIY string art with a balloon:
Prepare supplies by mixing starch concentrate with water, cutting cotton yarn into strips and blowing up balloons. To mix starch concentrate, scoop 2 Tbsp. of Simpli Starch into a mixing bowl, add ¼-cup water and stir. Then, bring 1 cup of water to an almost boil, remove from burner and slowly pour in starch concentrate mixture. Allow mixture to cool fully before crafting.
Tip
If you want to create a glittery sphere, add loose glitter to liquid starch once it's cooled off.
Yarn strip size depends on the type of craft you want to make. For small spheres, 5 to 7-in. strips work, but if you want to make something a little larger, we recommend 10-in. strips of yarn. You don't have to be super precise here because you can easily overlap strips when creating starch spheres. If you want to create more texture, consider weaving in strips of embroidery floss or twine for more variety.
Once liquid starch and cotton strings (aka yarn strips) are prepared, lay out newspaper or foil to create a work surface. Then, blow up balloons and tape ends to a paper plate.
2. Dip strings into starch and apply to balloon
With everything prepared, it's time to start crafting. To create spheres, dip one of the strings into starch. Use your fingers to squeegee excess liquid starch from yarn and gently apply to balloon. Removing excess starch is important because, as you layer, cotton strands will get heavier and could deflate the balloon if there is too much weight. Removing as much excess as possible helps prevent this.
Continue dipping and applying strings onto balloon—and don't be afraid to have a little fun with the design! You can lay strings flat, create a wavy design or even try weaving strands for a basket-like effect.
If you want to add a second layer, make sure to let the first layer fully dry first. This will prevent strings from getting too heavy and deflating balloon form.
Tip
If you want to make a solid sphere, make sure to cover the entire balloon in strings. For bowls or baskets, only apply strings to half of the balloon.
3. Pop balloon and clean up
Once you've finished applying strands of cotton yarn to the balloon, allow project to dry fully. This takes around 12 hours, depending on how much liquid starch is used.
After strands are fully dried, pop the balloon with a pin. Some latex might get stuck to the edges, so carefully peel these away before gently pulling the balloon out of the sphere or bowl. If you created a bowl or basket with a woven design and want to clean up the edge of your creation, you can use a pair of scissors to trim away messy areas caused by string ends.
String Art Design Ideas for Beginners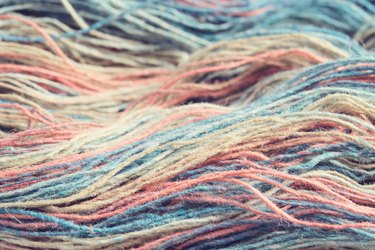 When it comes to DIY projects like balloon string art, the decor possibilities are ‌endless.‌ Here are a few easy string art ideas:
‌Spherical String Art:‌ If you use white or canvas-colored yarn, you can apply acrylic paint to finished spheres or bowls to give them a pop of color—just be sure to seal them with a craft seal like Mod Podge, which comes in gloss and matte finishes. For more intricate designs, use spray paint to add color.
‌Snowman String Art:‌ In addition to creating spheres, you can make beautiful string art home decor pieces such as snowman string art by gluing three white string art balls in varying sizes together and adding a top hat, buttons for the eyes and mouth, a felt triangle for the carrot nose and a scarf made from leftover fleece fabric.
‌Easter Egg String Art:‌ When spring rolls around, create Easter egg string art by blowing up small water balloons and wrapping string around to create an egg shape.
‌Art Prints:‌ You can also use liquid starch to create string art designs on paper for unique wall art or a fun kids' craft. Simply soak pieces of string (in different colors, depending on your design) in liquid starch, removing excess and applying strings to thick paper or card stock. Once you finish your string art patterns, you can seal it with Mod Podge. This DIY craft also works when using an upcycled piece of wood or a wooden board as a canvas (just be sure to seal it so that it stays in place).
Looking for more string art inspo? Try a DIY string art kit and start crafting your own string art today!