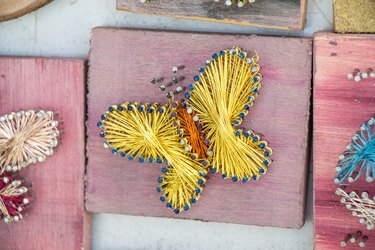 Dating back to the 1960s, when artist ​​John Eichinger introduced his geometric string mandala kits to hobbyists, string art has captivated arts and crafts enthusiasts for decades. Sixty years later, creating wall art and home decor with nails, a wood board, and some string is as popular as ever, thanks to hundreds of DIY string art craft kits and their modern design templates that allow hobbyists to handcraft beautiful pieces of art.
If you're shopping for a string art kit and feeling overwhelmed by all of the options, we have your search covered. After researching dozens of craft kits and considering everything from patterns and templates to skill levels and supplies, we curated a list of the best string art kits for adults and kids alike.
What to Consider When Purchasing a String Art Kit
No matter if you're a first-timer or are a more seasoned string artist, there are a few important factors to consider when shopping for string art craft supplies—especially as far as a DIY string art kit is considered.
‌Template Style:‌ When shopping for a string art kit, the template is one of the most important things to consider. You want to look for string art patterns that match your aesthetic and could result in either a great homemade gift idea or a piece of wall decor for your home. However, it's also important to think about the type of template included. Some kits come with pre-nailed patterns, which is a great choice for beginners, as they won't need to worry about getting the nails in place. Other kits include paper stencils that you nail on top of and others might include pre-drilled holes instead.
‌Craft Supplies:‌ If it's a DIY string art kit, it will certainly need to come with string, nails and some sort of background, so it's important to always look for those items. In addition to the basics, some kits include other supplies for the art project, including scissors, a hammer and hanging mechanisms. Before selecting a string art kit, double-check what comes in it to ensure you don't need to purchase extra supplies to complete the DIY wall decor.
‌Board Type:‌ The type of board is also important to consider, as this is your piece's background. Most DIY string art kits come with a wood board that is either raw and can be painted, stained or left bare, depending on your style. But, others might be made from something else. For example, kid-friendly kits might come with a foam board and use pins instead of nails for a safer approach to the project.
‌Skill Level:‌ String art can be super fun once you get started. However, it can also be challenging, if you don't consider your skill level. Whether you're shopping for kids or looking for string art kits for adults, you'll want to think about skill level and choose a design and template style that would make the arts and crafts project more accessible.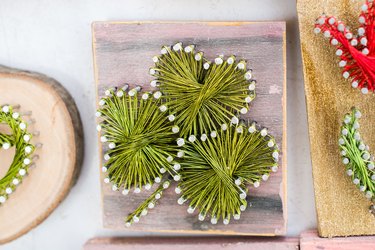 The Best Overall String Art Kit
Perfect for all skill levels, this simple string art kit is inspired by Robert Indiana's "Love" sculptures. It comes with everything you need to recreate the iconic pop art piece, including an 8.5-by-8.5-inch wood board that creates a gorgeous backdrop behind the red string. The string art kit also includes hardware for hanging, so you can easily transform it into office or home decor.
The Best Budget String Art Kit
Whether you're on a tight budget and searching for craft projects that won't break the bank or are new to string art and don't want to invest in a more intricate project, this Pineapple String Art Craft kit from Oriental Trading is an excellent pick. The kit costs just under $13 and comes with everything you need to create a tropical piece of wall art—even hardware for hanging it on your gallery wall!
The Best String Art Kit for Kids
On the hunt for the perfect gift idea for creative kids? Whether you're shopping for a holiday or birthday gift, the Craft-Tastic String Art Kit from Amazon is sure to spark inspiration. This DIY craft kit comes with three string art patterns, including a heart, a peace sign, and a sign that says "hi," which are all easy to make and safe for kids. Instead of hammering nails into a wood board, kids can create wall art by pushing pins into a foam board and wrapping string around them, following the template. Once complete, they'll have the sweetest DIY wall art for their bedroom.
The Best String Art Kit for Gifting
If you need a chic arts and crafts gift idea, this DIY string art kit from Etsy is ideal. The kit comes with everything necessary—including a wood board, string, design template, nails and step-by-step instructions—to create this stylish houseplant string art pattern. It's also easy to follow, can be customized by painting or staining the wood, and is a fantastic string art craft kit for teenagers and adults alike.
The Best String Art Kit for Beginners
As a beginner, you probably want to try string art patterns that are easy to follow yet still look amazing. For beginner string artists, the simple template in the ABUnderwoodCo2 DIY Rainbow Hearts String Art Kit from Etsy is a great place to start. The kit comes with all supplies necessary as well as step-by-step instructions that make it all the easier to do it yourself. Plus, it's pre-nailed so you don't have to worry about getting your string art patterns perfected. And, while the standard order comes with rainbow string, you can order custom colors at no extra cost—just be sure to leave a note to the seller at checkout.
The Best Intermediate String Art Kit
When shopping for a string art kit for adults, choosing one with fun and stylish patterns takes it from an arts and crafts feel to a home decor vibe. If you're more experienced with DIY string art and looking for a challenge, this chic western horse wall art piece is the kit for you. Available in five different-sized wood boards, the kit allows you to create a horse portrait out of string and features other details such as tassels for the mane and an eye-catching leather strip for the bridle. Once finished, it would make a lovely DIY gift idea or a piece of wall art for your home.
The Best Holiday String Art Kit
We love Christmas craft kits, especially when they double as stylish holiday home decor. The festive season is an excellent time to cozy up and try your hand at crafting this lovely Christmas tree wall art piece. The string art craft kit comes with a 16-by-12-inch wood board that is hand stained in dark walnut for a more rustic feel, plus it has everything you need to do it yourself, including extra string, which is so helpful. To nail the design, it also comes with an easy-to-follow template and step-by-step instructions, too.
The Best String Art Lantern Kit
A string art kit isn't just about looping strings around a bunch of intricately placed nails (although, that is a more popular way of creating this type of arts and crafts project). You can also create string art lanterns for a more 3D approach. Our top pick for the best string art lantern craft kit is the Dan&Darci 3D String Art Kit from Amazon, which is designed for kids of all ages and comes with everything needed to create a star-shaped lantern, including a spare balloon in case of accidental popping while wrapping.
The Best String Art Kit for Outdoors
String art kits usually result in some sort of wall art or home decor. And, while you might want to design one for indoors, a piece of string art on your patio or balcony can really add to the ambiance. If you're looking for a kit with that perfect string art pattern for the outdoors, the String of the Art Sun and Moon String Art Kit from Amazon is the perfect pick. This is a stylish piece featuring a white crescent moon and vibrant sun nested together. It also comes with step-by-step instructions and a template that is easy to use, so you can get the nails just right. Once you're done, you'll have a gorgeous String of the Art piece for your outdoor space—just be sure to hang it in a covered area to prevent the nails from rusting in wet weather.
The Most Unique String Art Kit
If you want to try your hand at a more unique string art style, the Marynee DIY String Art Craft Kit from Amazon is a must. This kit comes with everything—including a hammer, scissors and hanging mechanisms—you need to craft a sweet, 3D piece of art. We love it because the wood board features pre-drilled holes, making it easier to get the template right. Plus, it comes framed by a thin brass outline, which gives it a more elevated look. On top of that, the artificial floral bouquet gives it a nice and unexpected detail.