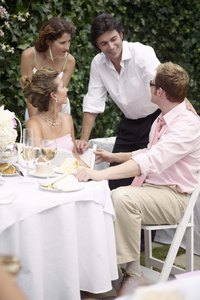 Whether you are planning a kid's party, a family celebration or a wedding reception, simple chair decorations can perk up your party table. Simple covers can be sewn together using inexpensive fabric, or you can purchase pillowcases or T-shirts to embellish for a quick and easy decorating idea. Whatever you choose to do, making your own chair covers lets you add your personal touch of creativity to your party.
Things You'll Need
Fabric Covers:
Measuring tape
Fabric (approximately 1.5 yards of fabric per chair)
Kraft paper
Straight pins
Scissors
Sewing machine
Thread
Pinking shears
Self-adhesive embellishments
Fabric pens
Glitter pens
Easy Pillowcase Cover:
Pillowcases, one per chair
Ribbon or tulle, 72-inches per chair
Safety pins, two per chair
Fabric Chair Covers
Measure the width of the chair back at the widest point. Add 2 inches to the measurement. Measure the height of the chair back from the top of the chair to the seat. Add 2 inches to the measurement.
Cut a pattern from kraft paper to your dimensions.
Lay the fabric on a flat surface. Place the paper pattern on top of the fabric. Pin it in place with straight pins. Cut the fabric along the edges of the pattern. Cut two similar pieces of cloth for each chair to be covered. Remove the pins from the fabric and pattern.
Place two of the fabric pieces on a flat surface with the right sides together. Align the sides of fabric. Pin the pieces together along the top and two sides.
Stitch the fabric with a sewing machine along the top and sides, leaving the bottom open. Use a 5/8-inch seam.
Cut along the bottom of the chair cover with pinking shears.
Turn the chair cover right side out. Attach self adhesive decorations and embellishments to the back of the cover. Use fabric pens or glitter pens to add decorations to the chair cover.
Place the chair cover over the chair back.
Easy Pillowcase Cover
Purchase pillowcases for your chair covers in colors or patterns to suit your party theme.
Place the pillowcase over the back of the party chair. Pull it down until the closed end of the pillowcase rests on the top of the chair back.
Wrap a 72-inch length of ribbon or tulle around the chair. Tie the ribbon with a bow on the back of the chair. Allow the ends of the ribbon to hang loosely down the back of the chair.
Secure the ribbon on the pillowcase chair cover with safety pins on the inside of the pillowcase.