Things You'll Need
Tulle

Measuring tape

Scissors

Ribbon or string

Embellishments (small bouquet of flowers or large satin bows, flower ball, a garland of flowers or vines)

Flower petals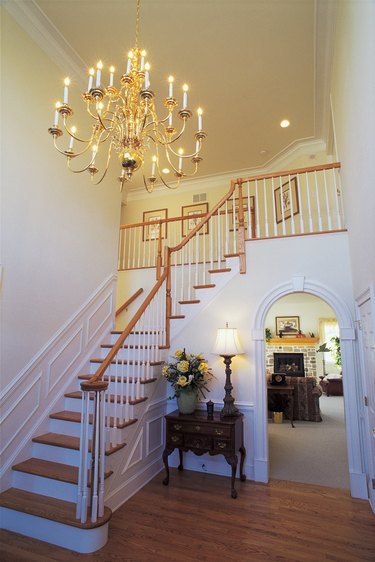 A staircase can be a major focal point on your big day. Either you will be walking down the staircase as you enter the room for the first time to meet your groom or afterward for the reception. For these reasons, dress up your staircase with tulle. This versatile material is a favorite among brides because it is inexpensive, easy to work with and adds a touch of elegance and romance to any feature, such as a staircase.
Step 1
Measure the staircase you need to decorate. Multiply this number by 3 to determine the final measurement.
Step 2
Purchase the amount of tulle that matches the final measurement. Select tulle that complements your wedding color scheme. Tulle is sold by the bolt or by the yard.
Step 3
Place the tulle at one end of the staircase at the top. Tie the tulle to the staircase using a ribbon or a string while a friend holds it in place.
Step 4
Twist the tulle in a clockwise motion and tightly weave it in and out of the stair rails as you twist. Or skip a few rails and let the fabric puddle down into large U-shapes. Continue the pattern down the staircase.
Step 5
Tie the tulle to the staircase when you reach the bottom, just like in Step 2. Allow some extra tulle to flow down the end.
Step 6
Step back and examine your work. If necessary, adjust the material so the pattern looks the same all along the length of the staircase.
Step 7
Add embellishments to the tulle, such as a small bouquet of flowers or large satin bows where the tulle begins and ends on the staircase. Or hang a flower ball from the handrails. You could also wrap a garland of flowers or vines down the handrail. Sprinkle flower petals down the stairs.