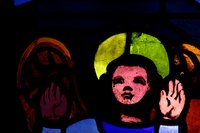 Nothing illuminates the room like the soft glow sunlight streaming through a stained glass window. Although making true stained glass cannot be an afternoon project, you can create the look of stained glass with a few household items. Turn any picture you color translucent with a coating of baby oil. You will have that beautiful glow hanging in front of your window within minutes.
Things You'll Need
Permanent black marker
White paper
Markers or crayons
Paper hole punch
Yarn or string
Baby oil
Paper cup
Cotton swabs
Print out or draw a design with a permanent black marker on white paper. Draw geometric shapes around the main design. Color the entire paper with brightly colored markers or crayons.
Punch a hole with a hole punch at the top of the paper. Thread yarn or string through the hole and tie the ends together so you can hang your stained glass project.
Pour baby oil into a small paper cup. Dip the cotton swab into the oil and apply oil to the back of the picture. Allow the oil to dry before hanging your stained glass creation.