Things You'll Need
Sweatshirt

Sewing machine

1/4 inch-wide ribbon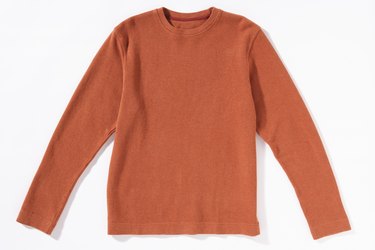 Transform a plain and ordinary sweatshirt into your own creative fashion essential by widening the neck into a boat neck or off-the-shoulder neckline. The transformation process is simple and requires very little sewing knowledge. You can leave the neckline ragged, create a folded neckline for a simple change, embellish the neckline with a woven ribbon around the fabric or add a row of sparkling glue-on gemstones to dress it up a little bit.
Step 1
Lay the sweatshirt on your work surface and smooth out any wrinkles.
Step 2
Draw a widened curve for the new neckline. Make the curve long and narrow for a boat neck neckline, or make a deep and wide curve for an off-the-shoulder shirt.
Step 3
Cut out the curve through both the front and back layers of the shirt. Discard the removed fabric or roll it up and use it to make simple fabric flowers. The transformation is complete for a ragged-edge, wide-neck sweatshirt.
Step 4
Make 1/2 inch-long slits just behind the left and right shoulder seams.
Step 5
Fold the ragged fabric inward all the way around the neckline to make the smooth edge. Sew the folded fabric to the inside of the shirt. The transformation is complete for a simple, folded neckline shirt.
Step 6
Make vertical slits all the way around the new neckline, leaving about one inch of space in between each slit.
Step 7
Cut a long piece of 1/4 inch-wide ribbon, at least 50 percent longer than the neckline's circumference. Thread the ribbon through the slit at the front center of the shirt and then weave the ribbon through the slits around the shirt.
Step 8
Tie the ribbon ends together in a bow at the front center.
Tip
To make a gemstone neckline instead, apply glue to the back of the gemstones and lay them around the neckline, spaced about one-half inch apart.