The peasant blouse is a warm weather essential that is reminiscent of carefree summer days. Fashion icons have given the breezy look a sense of glamour and style throughout the years. You, too, can have the iconic summer style by remaking an old, tired button-down into an off-the-shoulder boho blouse.
Watch the video tutorial
Things You'll Need
Button-down shirt

Measuring tape


Washable marking pen

Sharp scissors

Seam ripper

Iron and ironing board

Pins

Sewing machine with a universal 90/14 needle

3/4-inch elastic (enough to go around your shoulders)
Tip
This shirt can be made from a woman's or man's button-down shirt. The technique is the same for both. Just choose a shirt with a pattern or color that works for you.
Step 1
With the shirt on, mark the place for the new neckline with a washable marking pen. Add a 1/2 inch for a hem.
Step 2
Take the shirt off, lay it flat, and mark the new neckline across the entire shirt with a washable marking pen.
Step 3
Cut across the marked line through both layers of the shirt from shoulder to shoulder.
Step 4
If there is a button in the way of the new neckline hem, remove it with a seam ripper.
Step 5
Create a new neckline hem by folding 1/4 inch of the raw edge under and pressing with an iron. Fold under another 1/4 inch and press again.
Step 6
Pin the new neckline hem.
Step 7
Sew the new neckline hem with a universal 90/14 needle. Be sure to remove the pins as you sew.
Step 8
Use a measuring tape to measure around your shoulders. Subtract 1 inch from this number and cut a piece of 3/4-inch elastic to this measurement.
Step 9
Overlap the elastic ends and use a zig zag stitch to attach them together. Go back and forth over the stitching several times.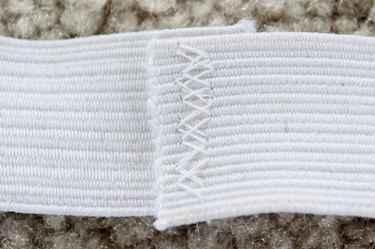 Step 10
Fold the elastic in half and then in half again. Mark each of the quarter folds with a washable marking pen.
Step 11
Match the four marks on the elastic with the center front, center back and each side of the neckline. Pin the elastic to the wrong side of the shirt at each of the marks directly below the new neckline hem.
Step 12
Use a zig zag stitch to sew the elastic to the shirt. Stretch the elastic as you sew to match the side and center marks.
Layer your new peasant blouse over a tank top, undo a few of the bottom buttons and tie the ends in a fashionable knot. Wear with jeans, maxi skirts, leggings or shorts, and look chic while enjoying the warmer weather.