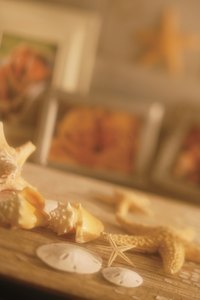 Even the largest seashell is delicate, and mounting a shell directly to a surface may place the object's integrity at risk. Many shells are quite small which complicates the task further. Placing shells in shadow boxes enables you to arrange the items for display, mount them to a surface with appropriately delicate supplies and mount the larger, more durable shadow box to the wall. Hot glue or straight pins support the shells within the display, but are not suited for direct wall application. Mounting the shells in this framed object ensures they remain intact indefinitely.
Things You'll Need
Shadow box
Ruler
Fabric
Dressmaker's chalk
Scissors
Hot glue
Seashells
Thin tacks or straight pins
Remove the back of the shadow box by sliding it out of the frame. Measure the back with a ruler.
Lay the fabric face down on the work surface. Add one inch to each side of the backing piece measurement to determine the dimensions you should mark on the fabric. For example, if the back of the shadow box is 8 inches by 10 inches, mark the fabric for a piece that is 10 inches by 12 inches. Mark the fabric with dressmaker's chalk. Cut the marked fabric out of the material with scissors.
Lay the trimmed fabric face down on the work surface. Center the box backing on top of the fabric with the interior side face down.
Fold the one inch fabric border over the edge of the box back. Apply a narrow line of hot glue 1/2 inch from the edge of the backing piece. Press the fabric into the glue to secure it. You should have a band of fabric about one inch wide glued to the shadow box piece.
Turn all of the materials 180 degrees to affix the fabric on the opposing side. Pull the fabric taut so that there is no slack on the front of the piece. Repeat the folding and gluing process to secure the fabric on the remaining sides.
Turn the backing piece over so that the fabric-covered side faces you. Arrange the seashells the way you want them to appear in the finished decoration.
Apply a bead of hot glue to the underside of the shell and press it into place on the fabric. Alternatively, leave the object in place and push a thin tack or straight pin directly under the bottom edge of the shell to create a bracket that supports it. Add more pins until there are enough to support the shell when you sit box upright. Two to eight pins should suffice for most seashells.
Slide the decorated backing piece into the shadow box frame. Sit the mounted shells on a shelf or table, or mount the shadow box to the wall.