Things You'll Need
Measuring tape

Curtain rod

Drill and drill bit

Anchors

Screws

Screwdriver

2 decorative bosses

Lightweight fabric such as chiffon, silk, voile or net

Pins

Iron and ironing board

Sewing machine

Lightweight heading tape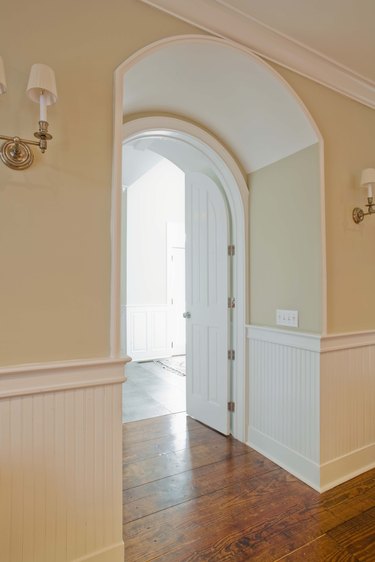 Archways in rooms are focal points and can make unusual room dividers. If you are choosing curtains for an archway, you'll be influenced by the size of the opening and the way it's used. If your archway is a room divider, you may want a symbolic curtain to section off one side of the room from the other. If your archway is a doorway, a thicker curtain will block drafts and act as a door. For a purely decorative look, you could decorate the archway with a heading of swags and tails to accentuate the curve.
Step 1
Measure and mark 12 inches up from the top point of the arch. Follow the curve down until it becomes a straight line to form the side of the arch. Measure and mark 12 inches out from this point onto the wall. Repeat for the other side.
Step 2
Position the curtain rod against the uppermost mark so that it sits levelly 12 inches above the top of the archway. Mark the position of the drill holes on the wall.
Step 3
Drill holes for the curtain rod and insert anchors. Screw the rod into place. Drill holes at each of the side marks and screw the decorative bosses into place.
Step 4
Measure the length of the drop from the curtain rod to the floor, then from side to side of the archway. Cut a piece of fabric measuring twice the width measurement of the archway and the same length plus an additional 12 inches. Cut a second piece to the same measurements.
Step 5
Fold a double 1-inch hem into the bottom of the fabric. Pin, press and machine sew into place. Fold 1-inch double hems into each side of the fabric and sew in the same way. Fold a single 1-inch hem into the top of the fabric and press. Repeat for the second piece of fabric.
Step 6
Lay the heading tape against the top edge of the fabric so that it sits just below the hem and covers the raw edge of the material. Pin and machine sew into position. Repeat for the other curtain.
Step 7
Gather the curtains to the required width by pulling the heading tape cords. Knot the cords and tie them into a bundle. Hang the curtains and close them over the archway. Push the first curtain back behind the decorative boss, arranging the top part of the curtain so that it drapes attractively. Repeat for the other side.
Warning
Make sure that any curtains can be pulled back flat against the wall to avoid causing a trip hazard. Sheer fabrics can be delicate and prone to snagging on the foot of the sewing machine. Set the stitch tension and length on your machine before starting to sew, slowly.