Things You'll Need
Paint

Paint brushes

Pillows

Framed art

Crystal bowl

Candles

Rug

Potted fern or palm tree

Curtains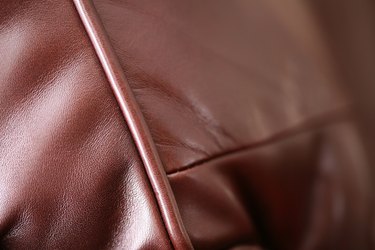 Design a living room that shows off the detail and craftsmanship seen on maroon leather sofa sets. Pairing both light and dark colors along with decor accents in the room make the living area more cozy. Add a personal touch by featuring some of your own family photos in the room and look for other pieces of furniture that complement the style of your sofas. The color of the walls, carpeting and rugs can also make the room complete.
Step 1
Paint the walls a light color that makes your maroon sofas stand out. Light colors that work with maroon include lavender, beige and pastel green. Too many dark colors in the room can make the sofas look like they blend into the wall.
Step 2
Place pillows on the sofas that match coordinate with the couches and other colors in the room. You can feature pillows with a combination of both light and dark colors such as plum, forest green, soft green and lavender. Pillows with a dark background and light flowers scattered on the front can also work for a living room with maroon couches.
Step 3
Hang up a large piece of framed art on the wall above your largest leather sofa. Choose a dark maroon frame so it stands out against the light walls and blends in with the sofa below. Feature other small pieces of framed art on each side of the larger picture, so that the largest piece is the main focal point.
Step 4
Place colored candles that match up with the colors seen on your sofa pillows in crystal bowls. Then place the bowls on end tables, coffee tables and other areas within the room.
Step 5
Place a rug on the floor with both light and dark colors that match your sofa and other accents. You can put the rug directly in front of the sofa or loveseat or place it on other available floor space.
Step 6
Place a potted palm tree, fern or other type of large plant in the corner of the room for greenery.
Step 7
Install dark maroon curtains to match your leather sofas. You can have a few dark accents in the room as long as you have other lighter decor to balance everything out.