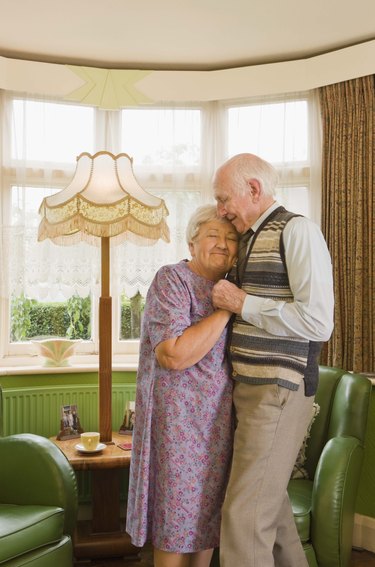 Celebrate your parents' or grandparents' golden anniversary by organizing a 50th wedding anniversary ceremony in their honor. At the ceremony, the couple reaffirms the vows spoken at their wedding. A renewal of vows allows the couple to look over their years together and verify, before family and friends, their determination to continue loving one another over the years to come. Whether you plan a small, intimate ceremony to take place in front of family, or a large production, you are honoring the couple's love and commitment.
Step 1
Inform the anniversary couple you want to organize their 50th wedding anniversary ceremony. Tell them, instead of buying a gift, you would enjoy watching them renew their vows.
Step 2
Create a guest list with the help of the anniversary couple. The guest list is vital to setting an accurate budget and selecting a location for the event. Once the guest list is created, select a date for the ceremony.
Step 3
Select a location for the ceremony and hire a judge or reverend to lead the ceremony. If the couple is religious, ask their pastor if the ceremony can be held at the church. Nature loving couples may prefer to renew their vows in an outdoor ceremony. Decide if an anniversary party will follow the ceremony at the same location, or relocate to a different venue.
Step 4
Mail invitations at least four weeks prior to the ceremony. Include the time, date and location of the event, as well as a phone number or email address where would-be guests can verify or decline attendance on the invitation.
Step 5
Arrange for a photographer or videographer to memorialize the ceremony.
Step 6
Buy decorations. Traditionally, 50th wedding anniversaries are represented by the color gold. Pair the gold with glass or crystal for a sophisticated appearance. Use the "bride's" favorite flowers and colors to make flower bouquets and table centerpieces.
Step 7
Choose food and beverages for the anniversary reception. Hire a catering company to prepare and serve a sit-down meal, or set up a buffet table filled with appetizers and finger foods to allow guests to mingle. Place diet and regular sodas, tea, coffee, bottles of water in buckets of ice. Discuss serving alcoholic beverages with the couple. They may be satisfied with having wine or champagne, and adverse to serving beer and hard liquor.
Step 8
Plan the entertainment. Make a slideshow of the couple's life to project on a big screen while the couple dances the first dance of the night. Play the couple's favorite music. Invite married couples to answer questions posed in a re-creation of the Newlywed game.
Step 9
Ensure the "bride" has a dress and the "groom" has a suit to wear to the ceremony. Ask if they want to write their own vows or if they want to exchange new rings. A 50th wedding anniversary ceremony must be personalized to the couple.