Things You'll Need
2 paper cone hats

Masking tape

Papier-mache pulp

Flour

Salt

Bowl

Newspaper

Sandpaper, fine grain

Washcloth

Acrylic paint, orange

Paintbrush

Acrylic glaze, clear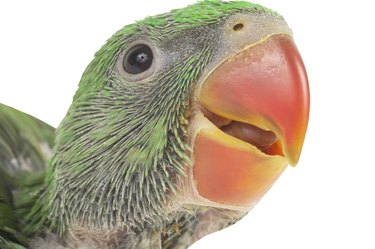 When you are putting together a parrot costume for a costume party, for a theatrical production or for Halloween, you can make the costume more believable and whimsical by using a parrot beak mask to go over your nose and mouth. Although you may have difficulty locating a parrot beak mask from a costume shop, you can make your own using a few materials that can be purchased readily from any arts and crafts supply store.
Step 1
Bend two paper cone hats so that the tips are curved. Place the two curved cones together so that one of the curved cones hangs over the other, then tape the openings of the cones together using masking tape. Do not remove the elastic bands from the hats, which you can use to wear the parrot beak.
Step 2
Combine 1/2 cup of papier-mache pulp, 1/4 cup of flour, 1/8 cup of salt and 1 cup of boiling water into a bowl. Stir the mixture with a spoon for two minutes, then allow the papier-mache mixture to cool for 20 minutes.
Step 3
Tear newspaper into strips that each measure 1 inch wide and 3 inches long. Dip the strips one at a time into the papier-mache mixture, then cover the curved cone form with the papier-mache strips. Apply four layers of papier-mache strips, then allow the form to dry for six hours.
Step 4
Sand the parrot beak using fine-grain sandpaper to make the beak smooth. Use small, circular motions. Wipe off the beak using a washcloth.
Step 5
Paint the parrot beak using orange acrylic paint, then allow the paint to dry for 20 minutes. Apply a thick layer of clear acrylic glaze over the paint, then allow the glaze to dry for an additional 20 minutes. The glaze will protect the paint from chipping off and will make the parrot beak glossy.