Things You'll Need
1 skein trellis yarn

Crochet hook (size J)

Tape measure

Scissors

Pony bead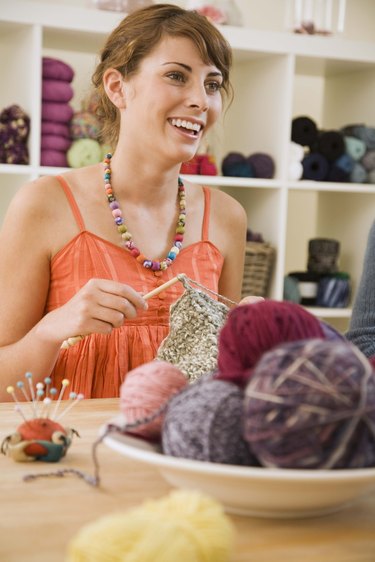 You can use a special type of yarn to make an attractive necklace with a crochet hook. The Trellis brand yarn features a ladder-style design of metallic threads that creates a sparkly yet comfortable necklace from a crochet chain stitch pattern. Trellis yarn is sold in specialty knitting supply stores, and the crochet chain stitch is an uncomplicated pattern suitable for those who have never crocheted before. Pony beads, used for the adjustable pull closure, are found at craft stores.
Step 1
Make a loop with the yarn 8 inches from the yarn end. Insert the crochet hook into the loop and pull the yarn strand through, creating a chain stitch. Repeat, making enough chain stitches for a 12-inch-length of chain. Cut the yarn 8 inches from the last chain and insert the yarn end through the last chain to knot the yarn.
Step 2
Repeat the previous step four more times to make five Trellis chains.
Step 3
Gather the tails from one end of each Trellis chain in your hand. Make a circle of the yarn and insert the tail ends in the circle, forming an overhand knot to connect the chains at the end of the chain pattern. Repeat with the tails on the opposite ends of the Trellis chains.
Step 4
Insert all tail ends into the pony bead. Make an overhand knot with all of the tail ends at the ends of the yarn strands.
Step 5
Slide the pony bead up and down the yarn strands to tighten and loosen the completed Trellis necklace.