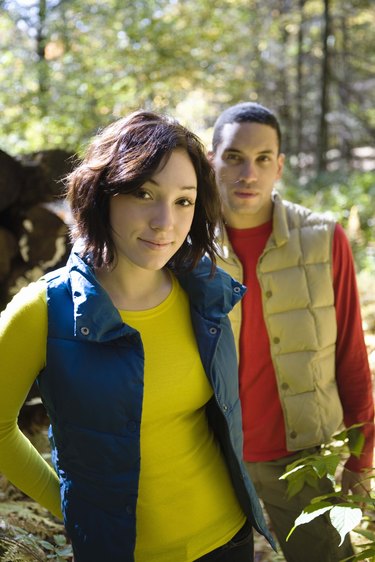 Vests come in a wide variety of styles, from the formal fitted look of a three-piece suit to the informal look of a knit vest. In either case, vests should sit snugly on the body, with very little excess fabric, which can create a bulky and uncomfortable fashion statement. With a few measurements and a sewing machine, you can alter a bulky, oversized vest to fit snugly to the body and can also remove excess length on an overly long vest.
Things You'll Need
Measuring tape

Fabric marker

Pins

Sewing machine

Sewing notions

Scissors
Step 1
Measure the circumference of your hips. Use a flexible measuring tape to measure around the hips along the point where your hip bones stick out. Measure your waist circumference at the small part of your waist, usually just above your belly button. Measure from the top of your shoulder down to your hip bone.
Step 2
Measure the bottom hem of the vest you want to alter. Measure the front of the vest from the top shoulder seam to the bottom hem.
Step 3
Turn the vest inside out. Subtract the body measurements from Step 1 from the vest measurements from Step 2. The amounts you are left with are how much you should take in from the vest material. For example, if your waist circumference is 35 inches and the vest is 38 inches, you will take in 3 inches from the width of the vest.
Step 4
Mark the new seam lines on the vest. For example, if you have 3 inches to take in along the side seams of the vest, divide that amount in half and use 1 1/2 inches for each side seam. Mark out 1 1/2 inches along the entire side seam. For a vest that is too long, fold up the bottom hem using the final measurement from Step 3. Pin in place using fabric pins. Remember that the vest should be inside out when you are pinning and marking the new seams.
Step 5
Sew along the newly pinned and marked seams using a sewing machine and matching thread. For side seams, be sure you are sewing together both layers of fabric with the vest turned inside out. Cut off any extra fabric from the shoulder or side seams, as well as from the newly folded bottom hem, using a pair of scissors. Run the sewing machine over the newly cut raw edges, getting as close as possible to the raw edges to stabilize these edges into place.
Tip
Do not cut the extra fabric from the vest until you have tried on the vest and are sure that it fits correctly.
Warning
Do not attempt this technique on hand-knitted vests, as the fibers could unravel.