Things You'll Need
Bowls

Acrylic paint

Craft sponges

Paintbrush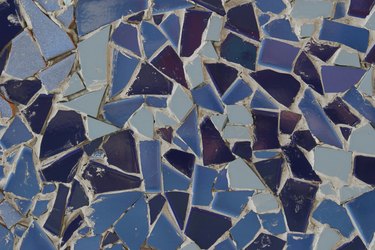 When you are decorating your home, you can make the rooms feel more cozy and well-organized by hanging up beautiful, colorful artwork. Although you can buy decorative artwork from a home decorating store, you can make the artwork more personal by making it yourself using a few craft supplies. You do not need to be an artist to make artwork yourself. Paint a mosaic picture on canvas using only a few very basic crafting techniques.
Step 1
Pour three different colors of acrylic paint into three different bowls. Place the bowls onto a flat surface.
Step 2
Apply paint onto one side of a shaped craft sponge using a paintbrush.
Step 3
Press the painted side of the sponge straight down onto a canvas, then lift the sponge straight off to reveal a stamped shape on the canvas.
Step 4
Repeat this process, applying a different color of paint onto the sponge. Stamp the second sponge stamp onto the canvas approximately 1/8 inch from the first stamp.
Step 5
Repeat to cover the entire canvas with stamped mosaics. Allow the mosaic painting to dry for four hours before displaying it in your home.
Tip
Always rinse out the paintbrushes and sponges before changing paint colors.
Warning
Keep acrylic paint out of the reach of children. Not all acrylic paint is nontoxic.