Things You'll Need
Yellow hooded sweatshirt and matching pants

1 sheet brown felt, 8 1/2 inches by 11 inches

Scissors

Hot glue gun

2 sheets yellow felt, 8 1/2 inches by 11 inches

Ruler

Compass

Stapler

Yellow mittens

Face paint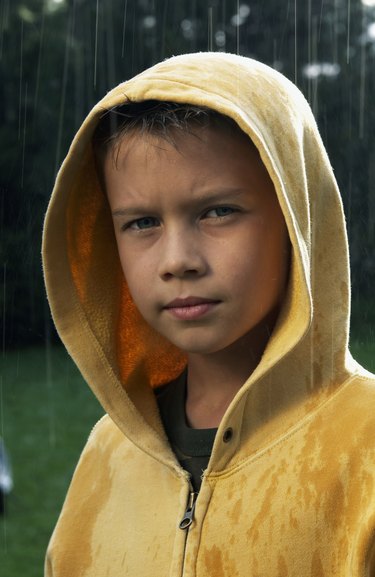 Fans of Disney's "The Lion King" may choose to dress up as Simba for Halloween. As a lion cub with no mane, Simba makes an uncomplicated model for a costume. Rather than purchasing a costume, save money and create an original, no-sew Simba outfit for your child at home. Using a yellow hooded sweatshirt and matching pants, along with a few basic craft supplies, kids can become "The Lion King" hero.
Step 1
Turn the hooded sweatshirt and sweatpants inside out for the fuzzy, soft look of a lion cub.
Step 2
Cut a large oval shape from the sheet of brown felt, using as much of the felt as possible. Reserve the leftover corner scraps of brown felt. Center the brown oval vertically on the front side of the hooded sweatshirt and affix it with hot glue. Allow the glue to dry overnight.
Step 3
Measure and cut four, 2-by-11-inch vertical strips from the yellow felt. Fold each strip lengthwise, apply hot glue along the inside edge and flatten closed. Place a heavy book, such as a telephone book or dictionary, on top of the strips and allow them to dry flat overnight.
Step 4
Create Simba's ears by using the compass to draw a 5-inch circle onto the yellow felt with the compass. Cut out the circle shape and then cut the circle in half to form two semicircles. Fold each semicircle in half and staple one on either side of the sweatshirt's hood, near the top. Staple only along the straight edge of each ear and once attached, separate the rounded edges to form the proper ear shape.
Step 5
Form Simba's tail by arranging the 2-by-11-inch folded vertical felt strips end-to-end, with approximately 1/2 inch of overlap between each strip. Staple the pieces together. Assemble the reserved scraps of brown felt, cutting into smaller, fringe-like pieces and stapling onto one end of the tail. Affix the other end of the tail with staples to the back of the sweatpants, centering just underneath the waistband.
Step 6
Complete the outfit with yellow mittens and face paint. Draw a pink or black nose on the child's face, along with whiskers.
Tip
If necessary, use a combination of staples and hot glue to assemble the tail and ears, ensuring they will hold up for the duration of Halloween night.
Warning
Avoid skin contact with the hot glue. Always unplug the glue gun after use.