Things You'll Need
Laundry detergent

White vinegar

Liquid fabric softener

Bucket

Washing machine

Dryer

Lingerie bag (optional)

Tennis balls (optional)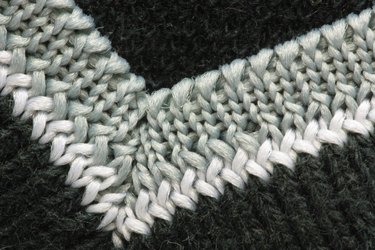 Cotton yarn creates warm, durable sweaters, but it can be stiff. Knitters and crocheters who work with cotton yarn know that it lacks the stretchiness of wool, which can leave the finished product feeling somewhat rigid. A cotton sweater that was once soft can become stiffened from line drying or lack of washing. To return the softness to an old cotton sweater or to soften one that has just been knitted, proper washing and drying technique is essential.
Step 1
Wash the sweater in the washing machine. Use cold water and set the machine on the gentle cycle. If your sweater has buttons or other embellishments, place it in a lingerie bag before washing.
Step 2
Add 1 cup of white vinegar to the rinse cycle.
Step 3
Place the sweater in a bucket and fill the bucket with enough water to cover the sweater. Add one capful of liquid fabric softener and allow the sweater to soak overnight.
Step 4
Return the sweater to the washing machine the following morning. Run the spin cycle to spin any excess water out of the sweater. Place the sweater in a lingerie bag first if necessary.
Step 5
Dry the sweater in the dryer on low heat. Place three tennis balls in the dryer with the sweater to soften it even more.
Tip
You may find that only one of the above techniques -- a vinegar rinse, a fabric-softener soak or machine drying with tennis balls -- is enough to soften your sweater. The three techniques combined will soften even the stiffest of yarn.