Things You'll Need
Black satin (amount depends on the size of the cape)

Red satin (amount depends on the size of the cape)

3 feet of black ribbon

Sewing machine

Black thread

Scissors

Measuring tape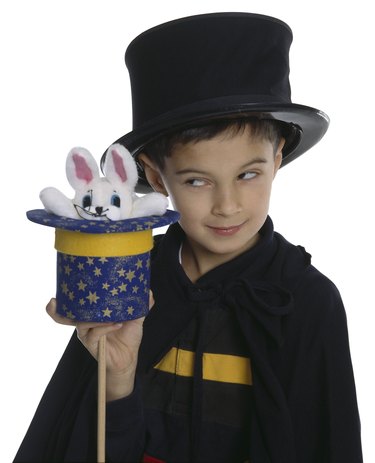 Whether you're attending a costume party or getting set for Halloween, knowing how to make a simple magician's cape can save you a lot of time and money. In fact, the same method used to create a magician's cape can be used to create capes for superheroes, fairies, bats and more. With a minimal amount of money and effort, you can create a cape that will be the envy of all costumes.
Step 1
Measure the person for whom you are making the cape. Measure from the nape of the neck to the ankle or mid-calf. This is your length. Have the person stand straight with his arms by his side. Measure around the person at the fullest part of his body. Take that measurement and double it to make a billowy cape. This is your width.
Step 2
Cut both your black and your red satin to your measurements. Place the two materials face to face, and line them up so that their edges are even.
Step 3
Sew a straight line down both long sides and one short side of the material, approximately half an inch from the edge.
Step 4
Turn the material right-side-out by reaching between the two pieces of material and grabbing the bottom seam. Pull the seam out the top opening. Your cape should resemble a big bag at this point with three sides sewn together and an opening at the top.
Step 5
Smooth the material out. Hold the cape so that the black side is facing you and the open section is at the top. Fold the top section away from you to create a hem of approximately 1 inch.
Step 6
Pin the hem in place, and then sew a straight seam across that portion. This will now be the bottom of your cape. The outside should be solid black while the inside is solid red with a black border at the bottom.
Step 7
Turn the cape right-side-up with the hem at the bottom. Once again, holding the black material towards you, fold the top away from you to create a 2-inch fold. Pin the material to keep the fold in place.
Step 8
Make vertical quarter-inch cuts across the fold, spacing the cuts about half an inch to an inch apart.
Step 9
Undo the pins and unfold the material. You should have evenly spaced holes across the neckline of your cape.
Step 10
Attach a safety pin to one end of your black ribbon. Thread that end through the holes until you have an even amount of ribbon on both sides of the cape. Scrunch the neck of the cape along the ribbon to give the cape a tapered look.
Tip
You can add embellishments like glitter or appliques to your cape to give it a different look.